Breast Unit
Symptomatic Breast Clinic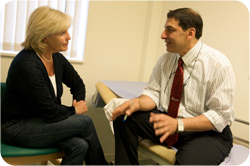 Patients referred to the breast unit are seen first either in the Imaging Breast Clinic or in the Surgical Breast Clinic depending on the particular problem or concern. Often, these clinics are running together.
All clinics have access to exactly the same diagnostic tests – but the order in which these are performed will depend on the patients problem.
The Surgical Breast Clinic is held twice a week on Tuesdays and Thursdays between 09:00am and 5:00pm.
The Imaging Breast Clinics are held every day.
---
---