Veteran & Armed Forces Aware
Our Commitments
Veteran Aware NHS Trust - Patient Information
Find out more about what it means for the RUH to be a Veteran Aware healthcare provider and what you can expect from us as a patient.
Fully trained staff
The RUH has a robust Veterans Aware training framework in place, which provides staff with clear information and support to ensure they provide the right level of care to those currently serving in the Forces, Military Veterans and their families.
These training sessions cover a wide variety of issues, including caring for veterans and their families, mental health support and caring for veterans with sever or multiple injuries.
Annual Armistice Day service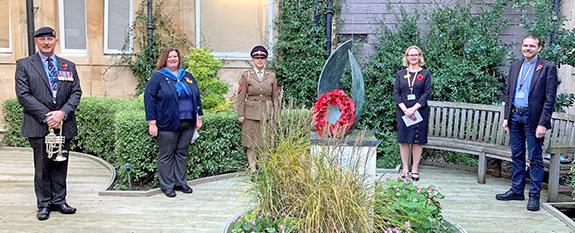 The RUH holds an Armistice Day service each year, with the most recent event taking place on Thursday 11 November 2021.
The service, which took place in the garden of the hospital's Spiritual Care Centre, included a two minutes' silence, the laying of a wreath and the Last Post. It was led by Deputy Team Chaplain Philip Turner, alongside a small number of staff, including Deputy Chief Executive Libby Walters.
The last post was played by Warrant Officer Class 1 (ret'd) Jason Sellars, who also works in the hospital's elective swabbing team. The wreath was laid by Victoria Gilmartin, Intensive Care Charge Nurse at the RUH and also Intensive Care Nurse for 243 (Wessex) Field Hospital.
With the RUH continuing to follow social distancing, staff were asked to watch the service in a Facebook Live stream, rather than attending in person.