The Dyson Cancer Centre
Follow our progress
We will shortly be launching a live web stream so you can keep an eye on our progress. In the meantime, you can keep informed by following @RUHBath on Twitter and Instagram and by checking the RUH's Facebook page.
Name the Crane Competition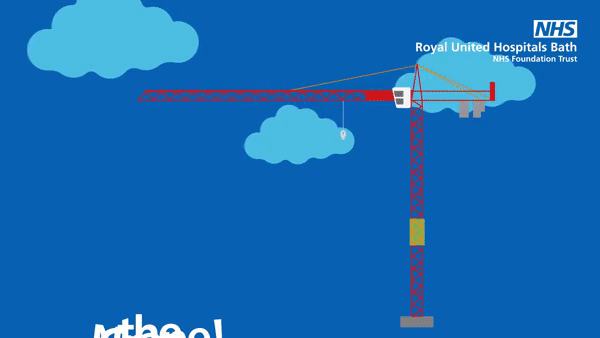 Our tower crane has arrived on site, and it's hard at working helping us build the new Dyson Cancer Centre. At 40m high, you can't miss it at the front of the hospital. It will be with us for a while so we'd love your help to give it a name as TC1- WOLFF WK6017.6 is a bit of a mouthful! Send your ideas and a quick explanation why you are suggesting this name to
ruh-tr.communicationteam@nhs.net
or via social media by
Friday 10 December
. We'll pick our favourite based on imagination, humour and originality - no Craney McCranefaces please!
What's happening on site?
October 2021
Groundworks continue and work is progressing well and is on schedule. Work has begun on pouring the concrete ground slabs. At the end of the month, our new tower crane arrived on site as we prepare for the next phase of construction. The crane will remain on site until summer 2023.
September 2021
Groundworks continue, including underpinning Radiotherapy, continuing the foundations for chemotherapy and progressing with the stair foundations and lift pit.
A base for the tower crane is under construction - the crane is due on site in October 2021.
August 2021
Groundworks phase is underway – that's all the work beneath the surface, such as foundations, trenches, laying pipes and cables. It's all been meticulously planned, and everything has to happen in a precise order.