Shops & Facilities
Our Facilities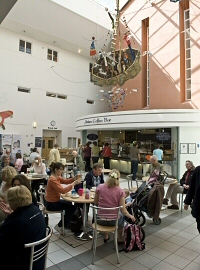 For information about places to go, whether you require a quiet moment with the chaplain; a cup of coffee or a bite to eat; or to buy a much needed item , click on the links.
A number of charities provide artwork in the corridors, a radio station and various fundraising activities.
More information about their valuable contributions can be found on:
Wheelchair hire
Wheelchairs are available at the main entrances to the RUH and require a one pound coin (returnable).
Disabled toilets/baby changing
The hospital has toilets in all the public areas. Toilets designed for the disabled carry the disabled sign but they can also be used by the able-bodied and can be used by both sexes. There are baby changing rooms in a number of locations. Ask at the main reception for directions to the nearest one.
Changing Places
We have Changing Places toilet facilities specially equipped for people with significant learning and physical disabilities.
About our Changing Places facilities
General Amenities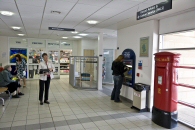 There is a pharmacy, postbox and cash point located just inside the main entrance of the RUH.
There is a 95p withdrawal charge to use the cash point. The Friends of the RUH shop, located just next to the cash point, provides cash back.
You can pay by bank card at our onsite outlets without paying a transaction charge, and there is no card payment minimum. This includes the Friends Coffee Shop, the Friends Shop, the Lansdown Restaurant and the Atrium Coffee Bar.
The RUH provides free Wi-Fi to enable patients to browse the internet using their own device, such as a smartphone or tablet.
Pay Phones are located in the following areas:
Main Entrance - Atrium
A&E - Main Waiting Area
These payphones are operated by Spectrum Interactive.