General Clinics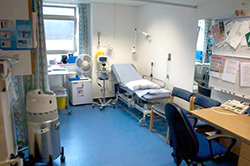 Various clinics are held Monday to Friday, morning and afternoon, by appointment only. Consultants, Specialist Registrars, Respiratory Nurse Specialists and Clinical Physiologists hold these clinics. To obtain an appointment a written referral to the department is required from your GP or practice nurse.
The clinics specialise in a variety of conditions which include asthma, COPD, TB with contact tracing, cystic fibrosis, combined respiratory & rheumatology, pulmonary hypertension, sleep apnoea, allergy and fast track clinics for patients at risk from cancer.
Respiratory nurses are available for comprehensive support for cystic fibrosis and TB patients, and performing teaching sessions on all respiratory related issues. They are also involved with inpatients admitted with respiratory illnesses.