General Surgery
Meet the Team

Consultant Surgeons
Consultant Staff
Colorectal:
Mr John Bunni (see below)
Mr Mark Bullock (see below)
Mr Edward Courtney
Mr Stephen Dalton
Mr Michael Williamson (see below)
Mr James Wood
Upper GI:
Mr Richard Krysztopik (see below)
Endocrine and General:
Mr Paul Maddox (see below)
Emergency Surgical Ambulatory Care:
Mr Alun Jones
Ms Sarah Richards
Mr James Hopkins
Vascular :
Mr Mahesh Pai
Ms Rebecca Winterborn
Featured profiles :
(click on the arrow next to a profile)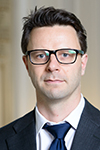 Mr Marc Bullock is a Consultant Colorectal and General Surgeon and the clinical lead for Robotic Surgery at the Trust. He is expert in minimally invasive techniques to treat colorectal cancer and since his appointment at the RUH in 2019, he has introduced a program of Robotic surgery and made improvements to the speed and efficiency of colorectal cancer diagnostic pathways.
Mr Bullock has a PhD in molecular oncology (focused on colorectal cancer) and was awarded a Fulbright Scholarship to conduct post-doctoral research at the world-renowned MD Anderson Cancer Centre in Houston, Texas. He also undertook a Clinical Fellowship in Robotic and advanced colorectal cancer surgery at the Royal Marsden Cancer Hospital in London before taking up his post in Bath.
Mr Bullock's combined passions are in medical education/research and humanitarian surgery, having worked for Medecins Sans Frontieres in DR-Congo as well as establishing an essential surgical skills course in collaboration with the charity Mercy Ships and the Association of Surgeons of Great Britain and Ireland. More recently, Mr Bullock has developed technical skills courses for surgeons who wish to introduce Robotic surgery into their clinical practice.
Education:
Mr John Bunni M.B., Ch.B (Hons), Dip Lap Surg, FRCS [ASGBI Medal] Consultant Colorectal and General Surgeon, Honorary Lecturer, Cardiff University, Visiting Senior Lecturer, University of Bath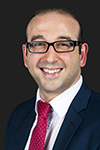 Appointed to the RUH:
2016
Area of Special Interest:
Open and laparoscopic surgery for colorectal cancer; total mesorectal excision; colonoscopy; cytoreductive surgery and hyperthermic intraperitoneal chemotherapy (HIPEC); gynae-oncology; general proctology and abdominal wall surgery/surgical anatomy.
Mr. Bunni is a Consultant Colorectal and General surgeon at the RUH. He trained in the South West after graduating from the University of Bristol with Honours. He was awarded the "Association of Surgeons of Great Britain and Ireland Gold Medal" for obtaining the highest mark in the United Kingdom in his FRCS exit examination. He was awarded his Certificate of Completion of Training (CCT) in February 2016 and is on the GMC Specialist Register. He also holds a "Diploma in Laparoscopic Surgery".
He completed a one year prestigious Fellowship in "Laparoscopic and Advanced Open Colorectal and Peritoneal Malignancy Surgery" at the Peritoneal Malignancy Institute, Basingstoke. Basingstoke is an Internationally recognised centre of excellence in colorectal and peritoneal malignancy surgery (World's largest centre for pseudomxyoma peritonei and appendiceal tumours). It is also the birthplace of the "Total Mesorectal Excision" operation for rectal cancer.
He has previously been awarded a £32,000 research grant by the Wellcome Trust to investigate the role of Vascular Endothelial Growth Factor (VEGF) in Colorectal Cancer. He has published the outcome of this research, as well as 2 dozen other publications in surgery. He has also authored a surgical textbook; recently co-authored the chapter on "Surgery for Rectal Cancer" in the Colorectal Surgery Companion Series (Elsevier) and co-authored an online surgical oncology module. He is an Honorary Lecturer at Cardiff University and has held numerous teaching positions and accolades. He is a reviewer for 12 surgical journals and also research grant applications.
Contact:
01225 825855
Education:
Mr Krysztopik graduated from Manchester University in 1988. Later gaining an MD thesis in 1999.
He completed his surgical training in the UK (the North West and South West), as well as abroad with research in the USA (Louisville) and specialist training in South Australia.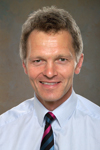 He became a fellow of the Royal College of Surgeons in 1992 and entered the Specialist Register in 2000.
Appointed to the RUH:
2001
Area of Special Interest:
Minimally invasive (key hole) surgery, including operations for gallstones and abdominal wall hernia repair. Gastro-oesophageal surgery, such as key hole surgery for hiatus hernia repair or reflux control, achalasia and obesity surgery.
Endoscopy, using flexible cameras to examine the stomach.
Oesophageal and gastric cancer. Local lead for our team, which co- ordinates care for patients with such cancers. Chairman of the 'South West Site Specific Group' for Upper Gastrointestinal Cancer - a group set up to discuss issues related to cancer care.
Contact:
01225 82 4922
Education:
Mr Maddox, BSc (Hons), M.B.B.Ch, MCh, FRCS (Ed), FRCS (Eng), graduated from Welsh National School of Medicine in 1980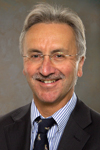 Appointed to the RUH:
1994
Area of Special Interest:
Breast, Endocrine surgery
Mr Maddox completed oncoplastic and benign breast training at Cardiff with Professor Robert Mansel, under whose supervision he conducted research leading to a thesis on hormonal dynamics of breast cancer which was awarded an Arris and Gale medal by the Royal College of Surgeons of England.
He also completed training in the full range of Endocrine surgery there with Professor Malcolm Wheeler and gained further experience with Professor Jon van Heerden at the Mayo Clinic with a scholarship from the British Association of Endocrine Surgery.
He has been the author of over 30 publications, mostly on breast disease, and has written several chapters in major surgical textbooks.
He is an examiner for the Intercollegiate Board for Final FRCS Examination.
Contact:
01225 82 4922
Lead clinician for General Surgery
Education:
Mr Tate graduated from Royal Free School of Medicine in London in 1980 and completed his surgical training in Southampton, London and Hong Kong.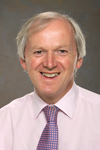 Appointed to the RUH:
1993
Area of Special Interest:
Colorectal surgery, Upper GI surgery, hernia repairs; the majority of operations done by laparoscopic surgery. Ex council member of Association of Laparoscopic Surgeons of GB and Ireland.
Mr Tate also has a special interest in the development and teaching of laparascopic surgical techniques.
Contact:
01225 824543
Education:
Mr Williamson, MD FRCS (Eng 1991) FRCS (Gen 1997) MB Bch BSc (Hons), trained at Cardiff University and qualified as a surgeon in 1997. Surgical training in South Wales, Yorkshire and Australia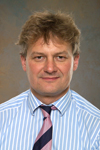 Appointed to the RUH:
1999
Area of Special Interest:
Colorectal cancer, ileoanal pouch and pelvic floor surgery. Laparoscopic incisional and groin hernia repair. Nationally Registered STARR surgeon — offering operations to patients with obstructive defaecation syndrome and rectal prolapse.
Contact:
01225 824922
Nurses
The nursing staff are intrinsic to the team and to your care before and after surgery.
Patients are looked after on Robin Smith and Pulteney ward and on the Short Term Admissions Unit (SAU). The following nurses will co-ordinate your care needs once on the ward:
Charge nurse: Short Term Admissions Unit (SAU)
Contact Kevin Roles on telephone:

01225 825652

Breast Cancer Nurses
Based in the Breast Unit, Ground Floor of RUH near Atrium
Contact

01225 824057

Colorectal Cancer Nursing Team
Based in the Grace Penwarden Unit, 2nd floor
Contact

01225 825836

Stoma Care Nurses
Based in the Grace Penwarden Unit, 2nd floor
Contact

01225 824056

Inflammatory Bowel Disease nurse
Based in Grace Penwarden Unit, 2nd floor
Contact

01225 821412

Bowel screening nurse
Based in the Grace Penwarden Unit, 2nd floor
Contact

01225 821412

Upper GI Cancer Nurse
Based in Gastroenterology Dept, 2nd floor
Contact

01225 821453