| | |
| --- | --- |
| Cardiology Department | B45 |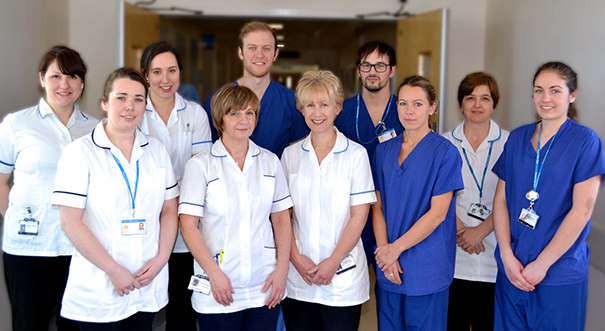 The Cardiology Department offers a range of invasive and non-invasive cardiology investigations to outpatients and inpatients. It includes:
Cardiac Day Case Unit (CDCU) B56
The Coronary Care Unit (CCU) B45
The Cardiac Centre (incorporating outpatient clinics and Catheterisation Lab) B59,B60
Reception
Reception is open:
8:30am – 5:00pm, Monday to Friday
9:00am – 6:00pm, Sunday
Inpatients
Patients with cardiac conditions may stay in diffent locations for an admission, although in the main if their primary condition requiring attention is cardiac they will get transferred onto wards on the second floor.
Outpatients
Outpatients is an appointment for a test, specific clinic, scheduled meeting and consultation with the cardiologist or their registrars, this visit often can include having tests and diagnostics, cardiac procedures are usually performed at a later appointment date ,all these are mainly in the Cardiac Centre (incorporating outpatient clinics and Catheterisation Lab) department B59 located on the third floor.

The Outpatient Cardiac Centre is open from 8:00am - 6:00pm.
The Team
The staff consists of Cardiologists, an Associate Specialist, Registrars, Cardiac Physiologists,Healthcare scientists, Medical Nurse Practitioners, Cardiac Nurses, Associate practioners ,Assistant technical officers a Rehabilitation Nurse, a Research Nurse, a Health Care Assistant, Secretaries, a Booking Team and a Receptionist.
You may be required to prepare for your appointment
Additional tests on the day may include:
X-ray
Blood test
Blood pressure
Height & weight measurement
Urine testing
Physical examination
Facilities
There is a cold water dispenser in the waiting area.
Location & Travel Arrangements
The Cardiac Centre is the only department on the third floor (central). From the main entrance, pass through the doors behind the atrium coffee bar and take the lift or stairs to the third floor. Turn left and follow the signs to the reception entrance on the right-hand side.
Location Map

Please make your own travel arrangements, or contact your GP if necessary.