| | |
| --- | --- |
| Emergency Department / A&E | A&E |
About the A&E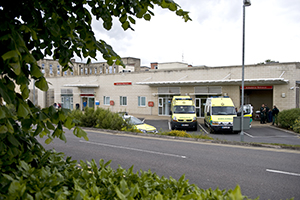 We are a busy UK Emergency Department. We provide emergency care to a large catchment population of around 500,000 people in Bath, and the surrounding towns and villages in North East Somerset and Western Wiltshire. Our dedicated highly skilled staff strive to provide the very best care for patients in an environment that is challenging, but fun to be part of.
The department was rebuilt in 2003 and to reflect the demands of high patient volume and level of care required, takes its model from that of many American trauma centres
The nature of our location often requires longer ambulance transfer times and the care of very unwell patients - reflected in our high admission rate (40%).
We have an extremely good working relationship with our inpatient teams, and many patients referred to the specialities will be assessed in the emergency department, and all patients arriving through the department who are assessed to be unwell and needing immediate medical input, are given prompt treatment and stabilised before leaving the A&E.
There is a large resuscitation area with fully equipped bays for 4 patients including a dedicated paediatric resuscitation area including equipment for newborn resuscitation, all areas have an overhead gantry for portable emergency X-rays.
Ambulances attend via the dedicated ambulance entrance and are met on arrival by the nursing co-ordinator before being allocated to an appropriate clinical area. The nursing and doctor workstations are in the centre of the department to improve observation and patient care.
The department has a separate high care area with 6 monitored beds for the care of more unwell patients or those requiring continuous cardiac monitoring. Our majors treatment area has a further 18 cubicles including a private examination room and an isolation cubicle.
Adjacent to the majors/high care area is our minors treatment area, this has a mixture of seated and trolley assessment areas, with separate assessment areas, treatment and procedure rooms and a dedicated plaster room and eye injury assessment room.
We also have an allocated paediatric assessment area, with its own separate waiting area including play/change facilities and separate assessment cubicles.
The emergency department has its own dedicated X-ray department providing 24hour digital X-ray facilities.
As part of our department there is a separate A&E observation ward, this an 8 bedded area where we provide care for patients who require an extended period of observation but are likely to be discharged home, for example those with head injuries, thereby reducing the number of unnecessary hospital admissions.
Also see:
Map of Hospital Location in Bath
Location of Emergency Department on RUH site