| | |
| --- | --- |
| Emergency Department / A&E | A&E |
Think 111 First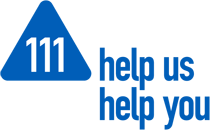 We are making it easier and safer for patients to get the right treatment at the right time and aiming to reduce the waiting time to be seen in an Emergency Department (ED) or Accident and Emergency (A&E) department.
Patients with life-threatening emergencies should continue to call 999.
The national Think 111 First programme asks people in need of urgent health care to contact NHS 111, on the NHS111 web site or by phone, before travelling to hospital for urgent and emergency care.
The 111 service will assess their needs and, where necessary, provide a consultation with an experienced clinician. If the clinician decides the person needs to go to a minor injuries unit, an urgent treatment centre or an emergency department, they can arrange a timed arrival slot for the patient with any of these services.
So if you have an urgent medical problem, and you are thinking about going to our Urgent Treatment Centre or Emergency Department, please contact NHS 111 first.
Frequently asked questions
How and when can I access NHS 111?
NHS 111 is available 24 hours a day, 7 days a week.
To get help from NHS 111, you can:
visit to 111.nhs.uk (for people aged 5 and over only)
call 111 for free from a landline or mobile phone (all ages)
What is Think 111 First?
Think 111 First is a national programme which asks people to contact 111 first if they are thinking about going to the Urgent Care Centre (UCC) or Emergency Department (ED) for an urgent, but not serious or life-threatening, health problem.
Experienced 111 clinicians will assess your needs over the phone and direct you to the most appropriate local service. This could be your GP, pharmacist, the Urgent Care Centre or the Emergency Department (ED).
Isn't NHS 111 just an information line?
NHS 111 is much more than information line – it helps to get people to the right service for their health needs, first time.
NHS 111 can arrange appointments at GP surgeries, some minor injuries units and urgent treatment centres - as well as send an ambulance should the person's condition be serious or life-threatening.
From December, NHS 111 will be able to arrange a timed arrival slot for people who need to go to a minor injury unit, urgent treatment centre or emergency department.
What is a timed arrival slot - does this mean that I won't have to wait to be seen?
If you need to go to a minor injuries unit, urgent treatment centre or emergency department, NHS 111 can arrange a timed arrival slot for you. They will give you a time to arrive and you can stay at home until then.
Staff will be expecting you at that time slot and will have received information from NHS 111 about why you are there.
Of course, people who need care most urgently will be seen first so you may still have to wait. But if we are able to help people get the treatment they need outside of urgent care services like emergency departments, we can reduce the time you might need to wait.
What if I turn up to the Emergency Department without calling 111 first?
If you visit our Emergency Department without having called NHS 111 first, you will still be seen.
However, patients with more critical or life-threatening conditions will be prioritised and those whose conditions are not as urgent may need to wait or will be directed to another service for treatment.
Calling 111 first will ensure that you get quicker, safer care in the right environment and will help us to better control the risk of COVID-19, so please consider calling 111 first, the next time you have an urgent medical problem.
What happens if I don't show up for my timed arrival slot? Will someone check that I'm ok?
If we are expecting to see you and you do not arrive, there will be systems in place to assess whether a follow up is necessary.
If you no longer need to visit us, please call NHS 111 to let us know so your arrival slot can be given to someone else.
What if my condition changes while I'm waiting at home?
If you become seriously ill, please call 999, otherwise call NHS 111 again to talk about what you are feeling.
What are the benefits of calling 111 first?
You will be able to speak to a senior medical professional earlier and get the right treatment, first time.
If you are assessed as needing an urgent face-to-face assessment or treatment, this can be arranged immediately - leading to shorter waiting times for all patients.
By advising people where and when to go, we can control queues in our Emergency Department waiting rooms and provide a safer environment
Will NHS 111 be able to cope with the extra calls?
To support the service and to deal with any increased pressure as we go into the winter period, capacity in the 111 service has been expanded significantly. This means that more trained health advisors and nurses than ever before will be available to respond to peoples' health needs.