Media Release
Date: 4 August 2020
RUH staff support key COVID-19 research study
The Royal United Hospitals Bath NHS Foundation Trust has been chosen as one of just 40 hospitals in England to take part in a new research study looking at immunity and reinfection of COVID-19.
By doing both swab and blood tests regularly together over time the SIREN study will assess whether prior infection (measured through an antibody test) protects against future infection (detection of virus on a swab).
The study is open to all staff, including those who have never had symptoms of COVID-19 as well as those who know they don't have antibodies.
Staff from both clinical and non-clinical departments have volunteered for the study, which is well on course to hit its recruitment target.
The study involves being tested every two to four weeks for up to 12 months with self-administered nose/throat swabs, antibody blood tests and online questionnaires.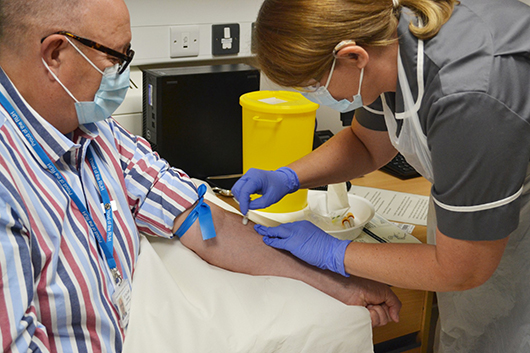 Dr Tim Craft, Director for Research and Innovation at the RUH, is one of the many staff who have already enrolled to support the study.
Tim, who has had coronavirus himself, said: "SIREN is a study only available for healthcare workers and it's looking at immunity to coronavirus over a period of time.
"There is so much we don't know about this infection and so much that we need to learn about it, so a study like this is really important.
"We know that healthcare workers are more at risk of contracting COVID-19 because of their increased chances of exposure so we are a good population to study.
"I did have the infection, I was quite poorly with it, and I know from the blood test I've had since that I've got antibodies. But we don't know what having antibodies means in terms of immunity, so it's important for everyone to make sure they continue to follow social distancing guidelines.
"Some of the research coming out suggests that the levels of antibodies in our bloodstream fall over time, so we need to establish whether that is true and if it is what it means about our own personal risk of catching coronavirus again.
"As someone who's had a positive antibody test I'm really interested to know what's going to happen to my antibody status over a period of time."
SIREN stands for SARS-COV2 Immunity and Reinfection Evaluation.
You can find out more about the study at the RUH in a video we have produced:
ENDS