Media Release
Date: 29 January 2020
New on-site register service lightens the load for new parents
Parents in Bath & North East Somerset can now register their baby's birth at the RUH for the first time thanks to a new service launched this week.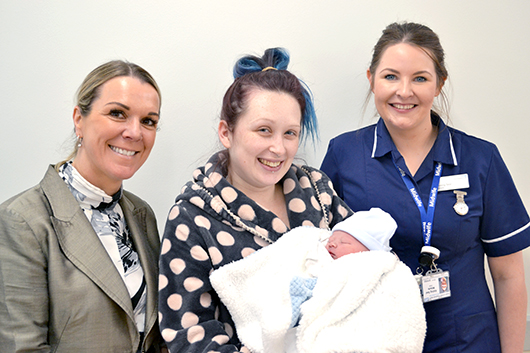 Staff from Bath & North East Somerset Council's register office will be available at the RUH's Mary Ward birth suite on Monday to Thursday mornings to register babies on site, helping parents to avoid an extra journey at a later date and provide them with the birth certificate straight away.
Until now, only babies in intensive care have been able to be registered on site but now the service is open to all babies. The registrations are available on Monday to Thursday mornings from 9.00am to 12noon.
RUH Maternity Matron Di Dorrington said: "Any parent with a newborn baby will tell you that making the birth registration process easier is a great idea. Being able to do it here and now at the RUH and avoiding tiring journeys into town can only be a benefit."
Councillor Paul Crossley, cabinet member for Community Services, said: "Registering a birth is a legal requirement that all parents need to ensure is done within 42 days of their baby's birth, but often travelling to a register office can be an extra strain at an already tiring time. Our new service will make it easier for parents to get the paperwork done then and there, as well as reduce the number of journeys they have to make with a newborn in tow. I hope lots of residents will take advantage of the service and that it makes life easier for them."
Anyone not wishing to register their baby at the RUH birth suite is still able to register a birth at the Guildhall in Bath or within the council's Library and Information Services at Midsomer Norton or Keynsham by making an appointment.
People who live outside Bath & North East Somerset but had their baby within the district should register their baby at their local register office and their certificate will be posted to them.
Birth certificates cost £11 each and are payable by card. Contactless payments are not accepted.
Find out more about the council's register office services here:
BANES Council Register Offices
ENDS