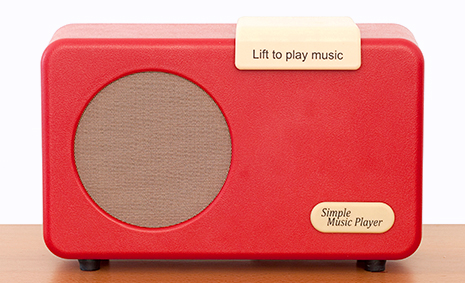 Audiobooks
Would your patient enjoy listening to an audiobook, play or radio show during their stay in hospital?
Easy-to-use audio players are now available to borrow from the Academy Library.
We have access to a huge library of audiobooks, radio plays, programmes and podcasts.
Audiobooks can help to relieve some of the boredom of being in hospital, and can help keep patients stimulated and engaged.
This service won the 2018 RUH Most Innovative team of the Year award.
How does the audiobook service work?
If you have a patient who you think could benefit from listening to audiobooks during their stay in hospital, you can now request an audio player from the Academy Library.
These audio players are specifically designed for people with dementia (although they are suitable for everybody) and are very easy to use.
If you request an audio player, we will then choose the listening material from a huge library of books, radio plays and programmes, or we can make a selection based on the patient's preferences.
We will then load the audiobooks onto the player and deliver this to the ward.
We can instruct the patient, their family, or a member of staff in using the player, whichever is most appropriate.
The patient can borrow the player for as long as they wish, and we can provide more listening material at anytime.