Volunteering at the RUH
Volunteer Stories
Barbara Webber

Ward Volunteer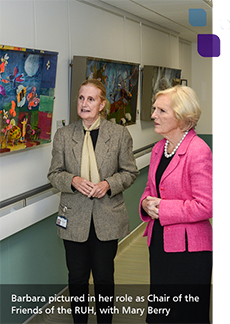 Ward Volunteer Barbara Webber has been volunteering at the RUH for 13 years in various roles, including serving as the Chair of the Friends of the RUH charity until 2016.
"I started volunteering because the hospital took very good care of my husband when he was ill. He had an aortic aneurism, and they saved his life, so it was a way of giving back.
"After my husband sadly became ill and died, I came back to volunteering in the Emergency Department. Then, after the pandemic started I underwent the risk assessment and have been volunteering on Combe ward.
"My role involves serving tea and coffee, tidying, doing little errands for patients, and generally supporting healthcare assistants and the cleaning staff.
"I like helping other people in a very real way, seeing that I'm making a difference. I've learnt that many times it's the small things that make a difference – patients thank me for spending some time talking with them.
"There are so many different roles for volunteers, I would absolutely recommend to plunge in and give it a go. Wonderful friendships come out of it too."
Brian Dyson

Oncology Welcome Volunteer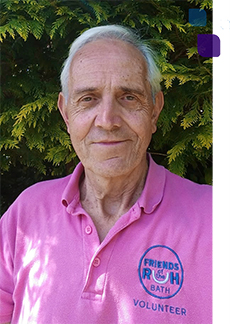 Brian Dyson has been volunteering at the RUH for over 10 years and currently volunteers in our Oncology outpatient department.
"I had retired a bit early and was looking for things to occupy my time and my mind. The RUH is virtually on my doorstep so it was the obvious place to help out.
"Over the years I've done a few different roles, including volunteering in the cancer information centre, taking around a trolley of books for inpatients to choose something to read, and serving tea and coffee.
"Now, I'm volunteering in Oncology outpatients as a welcome volunteer. All the staff in the department are friendly and welcoming and that's all you need, I feel really well supported.
"I always feel better for volunteering, particularly during the lockdown. It's never a chore, I'm always glad I did it. There's something really nice in knowing that you're helping the hospital and the patients in some way."
Patricia Spencer-Barclay

Bath Radio Volunteer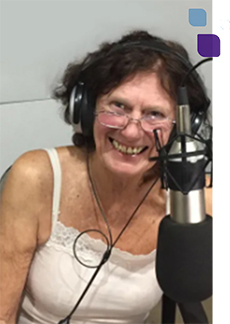 Patricia Spencer-Barclay volunteers for Bath Radio, a community radio station broadcasting here at the RUH. "Back in the 80s I sang with a village group, and during that time we did a concert and gave the money to Bath Hospital Radio.
"I got to know the person we presented the cheque to, and asked her about what she did. I thought it sounded like a great idea, and thought one of these days I'll think about doing that. Then, around six years ago I got in touch.
"I had to learn the radio desk which was like learning to drive two cars at once, but once I got the hang of it I was away.
"The pandemic has changed the way we work. Instead of getting out and about on the wards to collect song requests, we make programmes based on our own choices.
"I enjoy putting together shows featuring all the legends of music, like Bob Dylan and Barbara Streisand. I try to keep it light, as we're primarily making programmes for people who aren't very well.
"It's absolutely brilliant being in the studio playing the music that I love, with a bit of fun chat in between. I absolutely love it."
Teresa Merriman

Spiritual Care Volunteer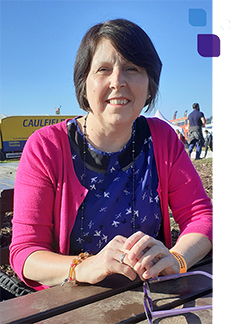 Teresa Merriman works part-time as a community nurse and during the pandemic has also offered her help as a volunteer in our Spiritual Care team to provide a listening ear and a trusted space for patients to talk.
"I work part time as a community nurse, and in August last year I wanted to offer my help to the RUH as a volunteer. I knew the staff in the hospital would be really busy during the pandemic and I wanted to help where I could. I was matched with the spiritual care team.
"My role involves visiting patients on the wards, and spending some time talking with them if they'd like to. The patient sets the agenda for the conversation and I listen, and people really enjoy having a chat. If a patient asks, I can pray with them or for them. But otherwise it's about providing a trusted space for them to talk.
"For me, it's a bit like nursing when you come away and feel like you've made a difference to someone. I love seeing people progress, whether that's physically as they recover from illness or emotionally. It's so rewarding."
Sarah Pinder

Vaccination Centre Volunteer at Bath Racecourse at the height of the pandemic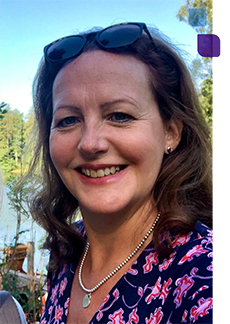 Sarah was one of hundreds of volunteers who played a vital role at the racecourse, supporting people having their COVID-19 vaccinations.
"I volunteered at the Bath Racecourse vaccination centre from the second day it opened.
"I had two roles there - with 3SG I provided marshalling support in the reception and registration areas - then I also volunteered with St John Ambulance in the clinical areas. That involved sterilising chairs, checking everyone was feeling ok in the recovery area, and putting basic first aid training into use if needed.
"It was amazing to be part of this massive national effort to get everyone vaccinated. The vaccination team were so friendly, and it was great to give people a warm welcome and make sure they felt at ease.
"I volunteered earlier in the pandemic too, with food deliveries, dropping off prescriptions, and doing phone check-ins with people who were self-isolating. It just feels good to help."
Now the Racecourse Vaccination Centre has closed, volunteers are very welcome to join the team on site at the RUH. Please contact the Friends of the RUH for further information.