RUH Redevelopment Plan
Oral and Maxillofacial Surgery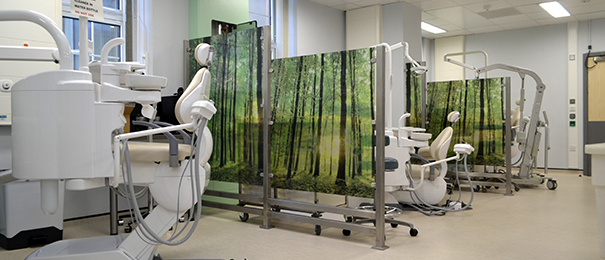 In April 2019 we opened the new and relocated Oral & Maxillofacial Surgery and Orthodontics department. The new facility positions the RUH as a 'Centre of Excellence' for conditions of the head and neck, including cancer.
The new department has a bright and welcoming reception and waiting area, four modern consulting rooms, a fully-equipped orthodontics suite, two minor operations rooms, an updated dental laboratory and new X-ray equipment.
Relocating the unit will make way for the new Cancer Centre.
Funding
The £2.7million investment was an approximate 90/10% partnership between the NHS and charitable funding sources.
The RUH asked its official charity, RUHX to raise a minimum of £200,000 towards this total to enhance what the NHS can provide and improve the clinical vision and patient care at the hospital. The charity more than doubled this fundraising target raising approximately half a million pounds.
Find out more
Follow our Twitter account to keep up to date with all the latest Estates redevelopment news.