Medical Equipment Management Service (MEMS)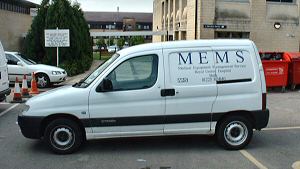 The Medical Equipment Management Service (MEMS) exists to help the hospital in all phases in the lifecycle of medical equipment. MEMS is a part of the department of Medical Physics and Bioengineering.
Contact MEMS on 01225 824140 for help on the following:
Equipment purchasing
Pre-purchase evaluation
Acceptance testing
User training
Planned maintenance
Repairs
Disposal
Accessing MEMS support
MEMS provide equipment management services to all the local ICBs as well as the majority of GPs in the area. MEMS mainly provide maintenance and repair of medical equipment, but can help with any of the other aspects listed above, on request.
The MEMS team consists of highly qualified medical equipment service engineers who are expert in looking after a wide range of medical devices. MEMS make twice yearly visits to GP practices to undertake routine maintenance and calibration. Faulty equipment can be sent to the workshops at the RUH at any time. Currently we have contracts with over 50 GP practices.
In order to ensure that high standards of patient safety are maintained, MEMS are accredited to the ISO 9001:15 Quality Standard.