Please use the drop down box below to the cancer care service you require: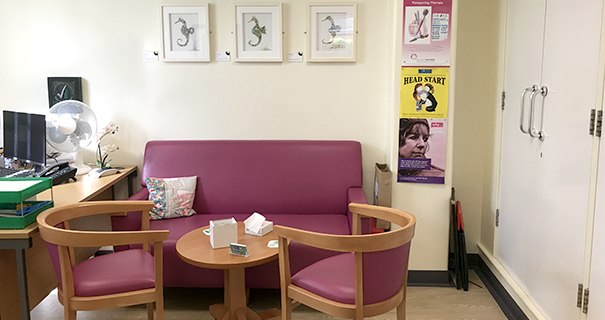 Introduction
The Royal United Hospital, Bath, provides cancer services for a population of 386,000 and diagnoses approximately 2200 new cases of cancer each year making it one of the largest cancer centres within the Avon Somerset and Wiltshire cancer network.
The RUH has the facilities to diagnose and treat all types of cancers. A wide range of services for both adults and young people are offered including specialist surgery, chemotherapy, radiotherapy, haematology, palliative and supportive care services. The RUH provides inpatient, day care and outpatient services for all areas of cancer treatment. Where highly specialised treatments are required patients are referred to the appropriate centre where those specialist services are provided.
There are multidisciplinary teams for each of the cancer types treated who discuss each newly diagnosed case to agree on the best treatment plan. These meetings are scheduled to take place weekly and comprise of a lead cancer clinician, surgeons, oncologist, cancer nurse specialist, histopathologists, consultant radiologist, multidisciplinary team coordinator and clinical trials nurse. For more detailed information please see the relevant cancer sites entry on this web page.
The RUH cancer services place a strong emphasis on supporting patients and their carers throughout their cancer experience and in obtaining feedback from users of the services about how we can improve the care we provide. There is a cancer information and support centre at the RUH; the aim of the Centre is to offer information, practical advice and support to people with cancer, families and friends and also to provide healthcare professionals with an additional resource.
The Cancer Information and Support Centre can be found in the Haematology Oncology Unit (Department A12).
To ensure streamlined care of cancer patients the cancer teams work closely with our primary care colleagues and we have an excellent Specialist Palliative Care Team working across the RUH and who work closely with Dorothy House – our local hospice services and Community Specialist Nurses.
The RUH works in close partnership with many organisations such as Bristol Haematology Oncology Centre, North Bristol NHS Trust, Bristol Royal Infirmary, North Hampton Hospital in Basingstoke and ASWCS cancer network. The trust is also proud of its excellent links with Macmillan Cancer Support, Bath Cancer Unit Support group and the Friends of the RUH who have extensively supported and continue to support the development of cancer services at the RUH.
If you would like to comment on the content of these web pages please contact edward.nicolle@nhs.net