News & Media
New Dermatology Unit opens at RUH
8 May 2012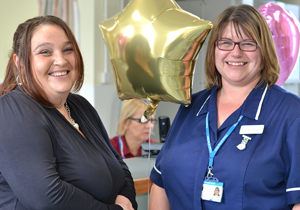 There is a palpable air of excitement on the first floor of the Royal United Hospital today, as staff welcome patients to a new, purpose built Dermatology unit, which opened at the hospital this morning.
One patient who is particularly appreciative of the new facility is Jess Ball, from Whiteway in Bath. Jess has rheumatoid arthritis and an auto immune skin condition, which is complex to treat. She has been coming to the Dermatology unit for 6½ years, sometimes on a daily basis. She says she cannot praise the care she has received highly enough:
'When I first came to the unit, my leg was badly ulcerated and if the staff had not intervened when they did, I would have lost my leg. The knowledge that they have is incredible and I feel very supported. There have been times when I don't know how I would have managed without their skill and care, and their wonderful sense of humour.
'The staff deserve this lovely new unit. It feels very light and spacious and welcoming, and patients and staff are sure to benefit from it.'
The Dermatology unit runs consultant and nurse led clinics and a comprehensive day treatment service. They see a huge variety of conditions from psoriasis to skin cancer and provide phototherapy, patch testing, topical treatment and leg ulcer dressings, among other treatments. The staff treat between 30/40 patients a day in the day treatment facility alone.
Senior Sister Jacky Strange says: 'This is the first time Dermatology has been in a purpose built unit in the RUH. We had outgrown the Kinghorn Dermatology Unit, which was converted for our use with a generous bequest from the late Sheila Kinghorn, back in 1994.
'We'll continue to provide a high standard of care to our patients, but now we can do that in a light and spacious environment, that offers greater confidentiality. And having the extra space will allow us to expand and treat a greater number of patients.'
Ends