Media Release
Date: 12 December 2022
New state of the art equipment for RUH's radiotherapy patients
Modern, cutting-edge technology that will make radiotherapy treatment for patients quicker and more comfortable has been installed at the Royal United Hospitals Bath NHS Foundation Trust.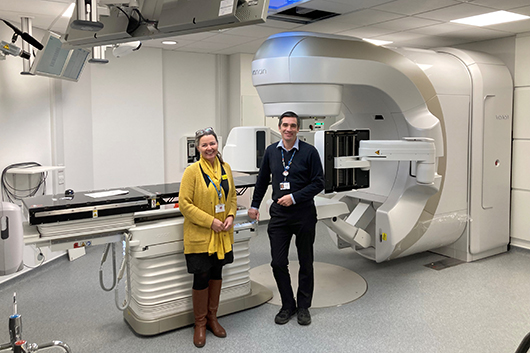 In what has been a major improvement project for the hospital, a new Truebeam Linear Accelerator has been installed in the radiotherapy department, replacing old equipment.
The state of the art machine can deliver radiotherapy treatment faster for cancer patients and uses advanced techniques to deliver treatment with even better accuracy.
The machine will also help clinical staff by delivering clearer images of scans.
To prepare for the arrival of the new equipment, a huge project has taken place on site to upgrade one of the RUH's radiotherapy treatment rooms.
The eight-month project has seen around 180 tonnes of steel installed in the walls of the room to increase radiation protection for patients and staff and fit out the room for clinical use.
The Medical Physics Radiotherapy team has now begun the process of commissioning the new equipment and it should be ready for use for patients in spring 2023.
Lisa Tolson, Radiotherapy Service Manager, said: "The new equipment is a fantastic addition to the RUH's Radiotherapy department and will be of real benefit to the people we care for.
"We have around 1,300 patients going through radiotherapy treatment with us each year and this new equipment will help many of them to be treated more quickly than before.
"I'd like to thank everyone at the RUH who has worked so hard on this project – it really will make such a positive difference to so many people."
The new linear accelerator cost £2million and was funded by NHS England.
Radiotherapy can be used to treat cancerous and non-cancerous tumours in almost any part of the body. It uses high energy radiation, usually x-rays or electrons, to stop cancer cells from dividing properly and as a result they are destroyed.
ENDS