Media Release
Date: 21 April 2021
Scooter power arrives at the RUH
Staff and visitors to the RUH can now leave the car at home and use an exciting new electric scooter service to get to and from the Combe Park site.
The hospital has been included within an expanded trial zone for Voi E-Scooters. By downloading the Voi app, you can hire a scooter from sites across the city to travel to and from the hospital, and around Bath, with no noise or pollution.
Cris Fletcher, Sustainable Travel Coordinator at the RUH, said: "The scooters are a fantastic way to travel around the city sustainably and are already proving popular with people of all different ages across the trial areas in Bath and Bristol.
"There has already been a lot of interest from staff and NHS workers are currently eligible for a 100% discount on some deals. We expect the scooters to be popular with visitors to the hospital too."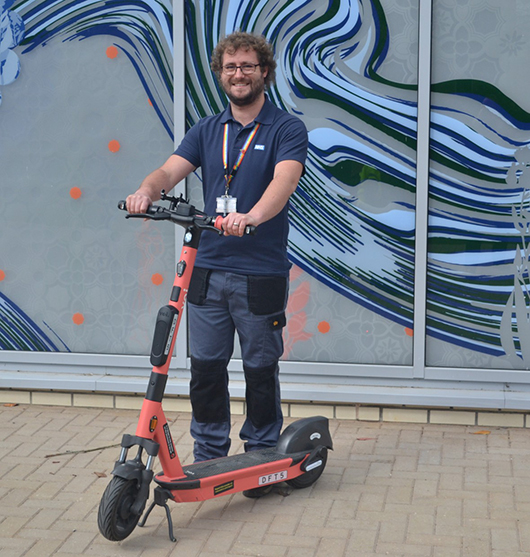 Jack Spence, Estates Maintenance Worker Team Leader, said: "The scooters are much easier to ride than you'd think, and they make travelling sustainably a lot more enjoyable."
Dr Chris Meehan said: "I signed up to the long-term rental scheme, which costs me £35 a month. I went for the long-term option because there was no guarantee of a scooter near my house in the morning. The big advantage of long-term rental scooters is that they can be taken outside of the normal Voi zone that standard rental scooters can."
E-scooters are available to unlock for £1 and cost 14p per minute. There are also a variety of subscriptions available (daily, weekly and monthly), as well as discounted passes for students, key workers, and those on low-incomes. To ride a Voi E-Scooter, a user must have a provisional driving licence and be at least 18 years of age.
Voi has plans to situate a number of scooters next to bike stands outside of the RNHRD and Brownsword Therapies Centre, but for the time being staff and visitors are asked being asked to park responsibly by using the app to find the nearest designated parking bay.
Riders can download the Voi app for free in the Apple App Store or Google Play.
ENDS