Media Release
Date: 13 October 2020
RUH blood cancer service praised for its excellent standards
The haematology myeloma service at the Royal United Hospitals Bath NHS Foundation Trust (RUH) is celebrating achieving an 'excellent' rating for its best practice standards.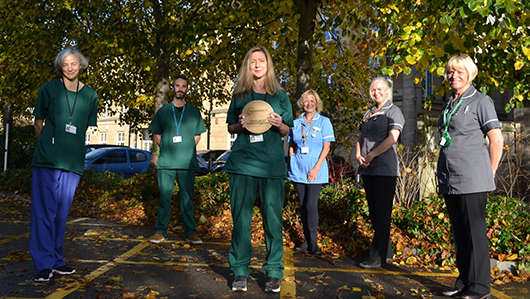 The accolade comes from Myeloma UK, which inspected the RUH team as part of the charity's Clinical Service Excellence Programme (CSEP). Myeloma, also known as multiple myeloma, is a blood cancer arising from plasma cells.
As part of the inspection, Myeloma UK assessed a number of different best practice standards, including multidisciplinary team working, treatment and supportive care, research and clinical trials, end of life care and information and support.
The inspection consisted of a 'virtual visit' and several online surveys, including a patient experience survey. Dr Josephine Crowe, Clinical Lead for Haematology at the RUH, said: "To be accredited with the CSEP award is a huge achievement and is a reflection of the hard work of our staff and the excellent care we strive to provide to our patients.
"Myeloma UK found that we clearly demonstrated excellence in our treatment and care of myeloma patients, achieving all best practice standards.
"Feedback from patients is a key part of the inspection process, so it was great to see the overwhelmingly positive response to our service from those people in our care.
"I would like to thank our brilliant myeloma patient support group, who continue to provide outstanding care and support to our patients. They had to change their ways of working during COVID, but continued to support our patients at all times, often virtually via online meetings. Their support is exceptional."
At any one time there are around 24,000 people living with myeloma in the UK. It accounts for 15 per cent of blood cancers, and two per cent of all cancers. Myeloma mainly affects those over the age of 65, however it has been diagnosed in people much younger. For more information, support and advice visit the Myeloma UK website:
ENDS