Media Release
Date: 28 July 2020
Boredom-busting activity packs for RUH patients
Patients on wards at the Royal United Hospitals Bath NHS Foundation Trust are being given free arts and crafts packs to help keep them entertained during their stay.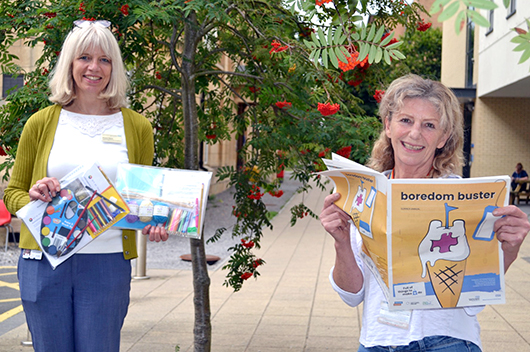 The packs – created by Art at the Heart, the RUH's arts charity, and supported by the Patient Experience team - give patients the chance to have a go at some creative activities while helping to alleviate the boredom of a hospital stay.
Sharon Manhi, Lead for Patient and Carer Experience, was able to fund the activity packs and said: "We recognise the impact that COVID-19 has had on patients in hospital as we are not able to run our usual arts and music programme. Visiting is also restricted and we don't have our team of volunteers on the wards, so supporting our patients' mental health and wellbeing with activities is crucial."
The packs include items such as paint sets, coloured pencils, origami, sketch books, colouring sheets, word searches, knitting and cross stitch kits. Each of the packs is individually sealed and for single patient use only.
In the Children's Ward, there are additional arts and crafts activities available, including modelling clay. The hospital's Play Specialists will be on hand to tailor activities to younger patients.
To compliment the activity packs, hundreds of Boredom Buster newspapers are being distributed across the hospital. The tabloid-size newspaper contains a range of stimulating activities, including puzzles, poetry, songs and ideas for creative writing, alongside factual articles.
RUH Arts Programme Manager Hetty Dupays said: "With Art at the Heart's usual activities on hold at the moment due to COVID-19, we wanted to make sure our patients still had lots of things to do to keep them entertained during their stay.
"The activity packs and Boredom Buster newspaper have been specially created to relieve boredom, stress and anxiety and are aimed at patients of all ages, to help them pass the time until they are well enough to go home."
The Boredom Buster project has been led by Culture Weston and the Arts and Culture Programme of University Hospitals Bristol and Weston NHS Foundation Trust on behalf of the NHS National Performance Advisory Group for Arts, Design and Heritage in Hospitals.
Art at the Heart is a registered charity that supports the RUH with an award-winning art and design programme that stimulates healing and well-being and creates an uplifting environment for patients, visitors and staff. If you wish to support the charity with a donation, please visit:
Forever Friends Appeal - Arts Donations
For more information please email hetty.dupays@nhs.net
ENDS