Media Release
Date: 17 July 2020
RUH nurse voted top of the class by students
An oncology nurse specialist from the Royal United Hospitals Bath NHS Foundation Trust is celebrating being voted 'Best Nurse Teacher' by medical students from the University of Bristol.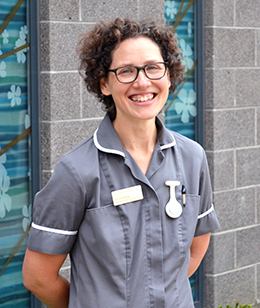 Emma Girling, a Macmillan Acute Oncology Cancer Nurse Specialist, received the award from graduating students from Bristol Medical School.
"It's a real honour to receive the award," said Emma. "I really enjoy working with the students – they're always so enthusiastic, engaged and keen to ask questions.
"I can't take the credit though. I'm part of a very close team which works well together and is so supportive, so it really is a team effort."
Most recently, Emma worked with students who went on to graduate early, becoming our newly-qualified doctors, ready to support the NHS during the worst of the COVID-19 pandemic.
Students from the University spend time in different departments while they are at the RUH. They typically spend a week with Oncology, and will shadow Emma to experience first-hand her work at the hospital. "During their week in Oncology they will spend time in clinic with consultants and also on the ward meeting and spending time with patients and their families," Emma said.
"While they are with us in Acute Oncology we aim to help them understand the patient pathway, from being admitted right through the hospital process, so they understand how all the different departments fit together.
ENDS