Media Release
Date: 21 May 2020
911 boyband singer on the RUH ambulance frontline
911 boyband singer Jimmy Constable is a big hit at the Royal United Hospitals Bath NHS Foundation Trust (RUH) – working on the NHS frontline, driving ambulances and caring for nonemergency patients during the coronavirus pandemic.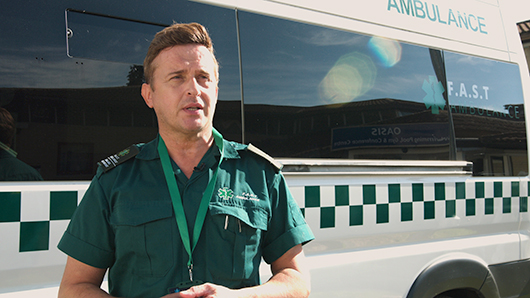 Jimmy, who found pop fame with the 911 trio in the 1990s, joined the F.A.S.T Ambulance team six weeks ago and says it's been an amazing experience.
He said: "It's been great. Strange, very different from what I normally do. It's challenging, but I like to be thrown in the deep end, so it's all good. It's been fantastic – I've really enjoyed it."
His work as an ambulance care assistant has taken him all over the south-west, meeting patients of all ages and transporting them to and from home and hospital.
He said: "The jobs are all varied. We've had COVID-19 positive patients, we've had end of life patients. It's job satisfaction every day. We took a sick little boy to London the other day and, as much as it made me teary because I've got kids of my own, the parents and family were so grateful it was really rewarding."
F.A.S.T Ambulance Operations Director – and 911's Tour Manager Tony Morrison said: "Jimmy's not doing too badly! I certainly threw him at the deep end. He's been exposed to all areas that I would expect all our staff to experience – and he's done a very good job."
Jimmy and his 911 bandmates have recently joined other 90s boybands performing at venues across the country – work that's been interrupted by the COVID-10 lockdown. So how long will he continue being an ambulance care assistant at the RUH in Bath?
Jimmy said: "I think my day job, concerts and mass gatherings, is going to be one of the last things to be allowed to return after lockdown. I've said that as long as they need me here, as long as they need my help, I'm happy to do it."