Media Release
Date: 1 May 2020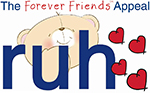 Two wheels for our NHS heroes
Thirty brand new bikes arrived today (Friday 1 May) at the Royal United Hospitals Bath as a special gift for our NHS heroes. The bikes were donated by BW Cycling, a Bristol-based company that wanted to help staff get to work during the coronavirus pandemic.
They will make a huge difference to staff who have been struggling to get to work on public transport because of reduced services and social distancing guidelines. The Trust organised a free draw and invited colleagues who would benefit of having a bike and the lucky winners were selected at random.
Andy Wadsworth, Co-owner of BW Cycling said:
"We are a small privately owned bike shop which can't make ventilators or PPE but we have bikes to make transport easier. When we heard stories of frontline NHS staff working long shifts with some walking for over an hour to get to work and back because of reduced public transport and being unable to get a lift share, we thought we could help.
"We are very fortunate to have strong client relationships with local companies and Creo Medical has been very supportive in helping fund 100 bikes for NHS staff. We've donated 50 bikes to RUH staff, the remaining 20 will be delivered next week and donated another 50 to staff at Southmead. It's been a bit challenging with the logistics and social distancing but we've done it, much easier in comparison to what many NHS staff are having to deal with on a daily basis. A big thank you goes to the team at Tour du Velo who have kindly agreed to deliver all the bikes"
As well as donating the bikes, the lucky winners also received a helmet, lights and a bike lock to ensure they can cycle safely.
Ben Ellis, Emergency Department Assistant, was entered into the draw by his colleagues Ashleigh Farmer and Zoe Lockton who work with him in the Emergency Department. When he found out he was a winner, he said: "Winning a bike was a big surprise as I did not know about the offer. I feel very privileged and look forward to being able to ride to work."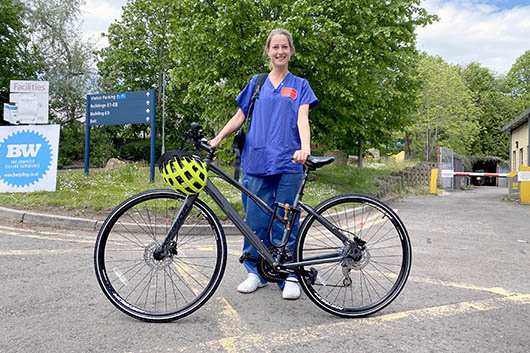 Another winner, Jo Smith, Clinical Dietitian who lives in Southstoke said: "This will certainly help my journey to work - it's either over an hour's walk or try and catch two buses!"
The Royal United Hospitals Bath NHS Foundation Trust would like to thank all businesses for their continued support of our staff and patients during this challenging time. Any businesses looking to make a donation should contact the hospital's charity The Forever Friends Appeal by email: forever.friends@nhs.net before making any deliveries.