Media Release
Date: 30 April 2020
RUH Director helps with development of the new NHS Nightingale Hospital Bristol
One of the Royal United Hospitals Bath NHS Trust's executive team has been using his expertise to lead the Estates and Facilities team at the new NHS Nightingale Hospital Bristol.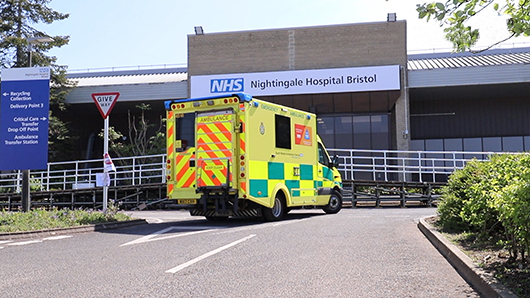 Brian Johnson, the RUH's Director of Estates and Facilities, has spent the last three weeks on site at the new Nightingale Hospital, which serves the Severn region from Gloucester to Yeovil and Swindon to Taunton. Based at University of West of England Frenchay campus, it will provide up to 300 intensive care beds for coronavirus patients, if local services need them.
Brian, a Chartered Engineer, said: "It's been a real honour to have been part of such an incredible project, which is at the heart of the NHS' efforts to tackle the coronavirus pandemic in the south west.
"It's been a tremendous effort by everyone involved to create this facility in just 24 days. We have installed some seven miles of copper piping for the medical gas, oxygen and vacuum systems and some 25 miles of data cabling.
"Ordinarily, this sort of project would take around 18 months to complete, so this has been a truly Herculean achievement. It is testament to the hard work of the NHS staff, our contractors and armed forces colleagues all working together for a common goal.
"The RUH has been actively supporting this project and many of our clinical staff who have asked to work there have now arrived for induction and training. It's an impressive model for the future of what we can achieve in a time of crisis – but obviously what we really hope for is that we will never need to use it."
Brian joined the RUH in September 2018 as Director of Estates and Facilities. Before that, he was Regional Operations Director at Capita Health Partners. He has held numerous senior engineering leadership roles within consultancy businesses, delivering projects nationally and internationally.
ENDS