Media Release
Date: 31 March 2020
Super mini-market a hit for RUH staff
Staff working flat out at the Royal United Hospital in Bath can now pick up bargain shopping essentials while they're at work – at the hospital's very own pop-up mini-market.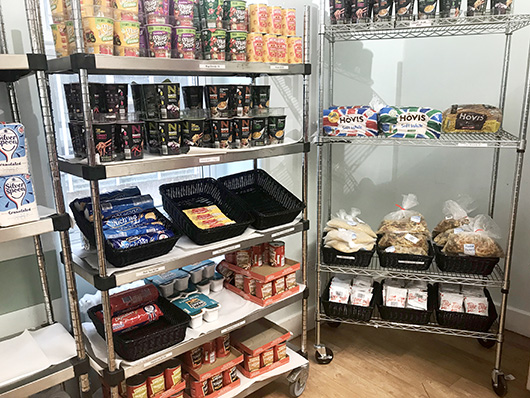 It's the brainwave of the catering team who run the hospital's Lansdown Restaurant. They realised some staff were struggling to get to the shops after their shifts, so decided to bring the grocery store to them instead.
Catering manager Jason Joyce said: "We opened a few days ago and it's been a fantastic success. We started off with selling basic items like tea, milk, biscuits and bread and now we're expanding our range every day. Favourites are pasta, rice, eggs and bacon which are flying off the shelves, and now we're looking to expand to fresh fruit and vegetables."
The shop is a big hit with staff and on social media, reaching 100,000 people. Comments include: "This is a brilliant idea! Keep the wonderful staff safe and well" and "Excellent, well done and a massive thank you for all the work you are doing."
The shop is just one of the ways the RUH Trust is looking after its hard-working staff during the coronavirus pandemic. Counselling and psychology services are available, a Thank You board displays messages of support from the public, and care packages of items including snacks and toiletries donated by the public are being distributed to teams across the hospital by our charity The Forever Friends Appeal.
ENDS