Media Release
Date: 12 February 2020
Friends volunteers making a difference in the Emergency Department
Friends of the RUH volunteers who help out in the hospital's busy accident and emergency department have proved such a success that A&E staff are now appealing for more volunteers to come forward.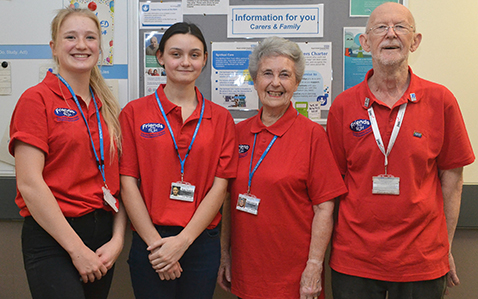 The volunteers support patients in A&E with the little things that can make a big difference - making patients a cup of tea, providing a listening ear to them and their relatives and helping them feel comfortable at what can be a worrying and stressful time.
Their work is helping to free up time for busy clinical staff to focus on providing high-quality care for our patients.
One of the volunteers, Andy Edwards, said: "It's always very busy because there's so much going on. I'll serve tea and coffee to patients, their relatives and friends and help out at meal times too.
"A big part of the role is listening to patients. They are in unfamiliar surroundings and often scared, so you can help to reassure them. Sometimes patients or their relatives just want to sit and talk and we provide that listening ear."
Andy decided to volunteer after the death of his wife, who was an oncology patient. He said: "I approached the hospital to see how I could help. The RUH had been so good to us that I wanted to give something back.
"If you're willing to really put your heart into it you'll get so much out of it. It's a very satisfying and rewarding role."
Samantha Nolan, Manager of the Friends of the RUH Volunteer Services, said: "The feedback we have received from staff has been fantastic. The volunteers are praised for their support of patients, relatives and staff and are crucial and valued members of the Emergency Department team.
"If you'd like to help out, please get in touch. Just a few hours a week or a fortnight can really help and you'll receive training and support."
If you'd like to volunteer at the RUH, call 01225 824046 or visit the Friends website – www.friendsoftheruh.org.uk
ENDS