Media Release
Date: 31 January 2020
RUH launches new follow-up clinic for Critical Care patients
Patients who have spent time in the Critical Care unit at the Royal United Hospitals Bath NHS Trust now have the option of attending a new follow-up clinic which will check on their physical and mental health.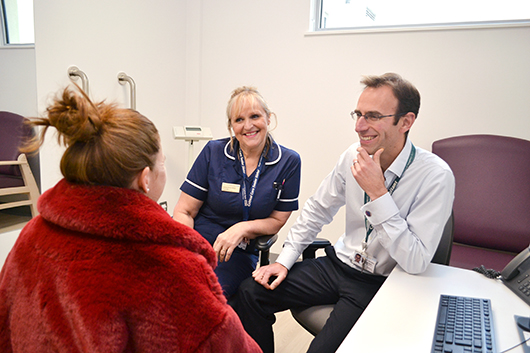 Launched this week, the clinic, one of the first of its kind in the south west, aims to identify any ongoing needs or concerns that patients may have following their stay in the unit.
Patients will be contacted one to two months after they have left Critical Care, to see if they may benefit from attending the clinic.
Appointments will then be offered to patients who have experienced negative effects linked to their admission, such as reduced mobility, loss of independence, changes in mood, nightmares or flashbacks.
Caroline Ficke, Physiotherapy Team Leader, said: "This clinic is all about identifying and meeting the needs of people who have left Critical Care but who still need both physical and mental support.
"Being admitted to the unit can be a traumatic experience, so we make sure we focus on supporting a patient's mental health as much as we do their physical rehabilitation."
Dr Andy Georgiou, Lead Consultant for Critical Care, said: "We know that a lot of patients struggle when they leave the unit and the hospital. They don't always have access to the support they need.
"This clinic brings the key support services likely to benefit the patient together in one clinic to support those people who need it the most."
The clinic is one of the first of its kind in the south west and one of only a few to offer patients access to a consultant, nurse, physiotherapist and psychologist, all of whom specialise in intensive care medicine.
Former Critical Care patient Andrew Forster, 62, was one of the first patients to attend the new clinic.
He said: "I was in Critical Care for about seven weeks last year. I'm making good progress but I'm nowhere near back to normal yet and have been suffering with high levels of anxiety and have had trouble sleeping too.
"Visiting the follow-up clinic has been a great help to me. I was able to talk with a psychologist, which has been really helpful and had a very positive affect. I also met with Caroline and she gave me some exercises to take away with me to help with my rehabilitation – my aim is to get back to playing bowls again as soon as possible!
"People leaving Critical Care can have negative effects which are often compared to PTSD. This clinic will be really important in helping people like me to recover physically and mentally from the experience."
You can find out more information about the new follow-up clinic on our website here, by calling 01225 825057 or emailing ruh-tr.criticalcarefollowup@nhs.net
The clinic will be run at the RUH initially on a one-year trial.
ENDS