Media Release
Date: 22 January 2020
New Trauma Assessment Unit opens at the RUH
Patients with complex injuries and conditions that need specialist orthopaedic treatment will benefit from speedier care at a new dedicated unit that's opened at the Royal United Hospital.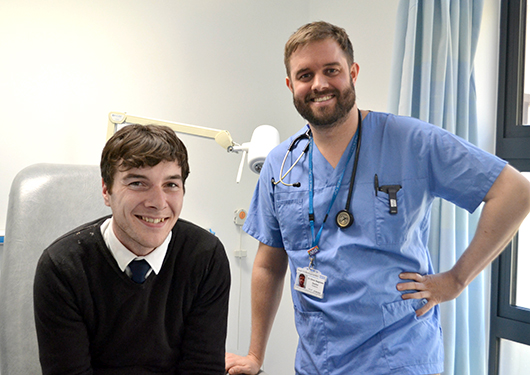 The Trauma Assessment Unit will also create more capacity in the hospital's Emergency Department and the Surgical Assessment Unit, where such patients were formerly seen.
Karen Driscoll, Deputy Divisional Manager, Surgery, said: "We're really excited to be opening a dedicated clinical area that will be of better quality and more efficient for both patients and staff."
The unit, adjoining the Emergency Department, is open from 10am to 10pm seven days a week. It is staffed by dedicated nurses with the input of the on-call trauma and orthopaedic surgical team.
The unit's first patient, Ollie Bird, from Stroud, said: "I was referred straight here from the medical centre in Chippenham. The experience has been fantastic – really quick and friendly – and I'll be home very soon."
Orthopaedic consultant Tristan Barton said: "Patients shouldn't notice any difference in the care provided, except that they'll be seen quicker. Patients may still arrive at ED, be triaged as usual, and then referred onto the on-call team who will accept them into the Trauma Assessment Unit, rather than waiting for their turn to go elsewhere in ED. Patients who are referred by their GP will be admitted directly into TAU if appropriate, receive treatment and be discharged home.
"Bringing patients directly to the new unit means we can provide the right care in the right place at the right time. Our dedicated nurses can quickly and proactively carry out the tests a patient needs, so by the time they're seen by the trauma and orthopaedic team the right information is there already. We believe it's a win-win solution for both the hospital and patients."
ENDS