Media Release
Date: 26 September 2019
Royal United Hospitals' CEO to retire
James Scott, the long-standing CEO of the Royal United Hospitals Bath NHS Foundation Trust, reflects on a life's service in the NHS and is full of praise for staff as he prepares to retire after nearly 13 years in the role.
Mr Scott, who turns 60 next year and has spent 36 years in the NHS, said in a farewell message to staff: "It's been a privilege to be your Chief Executive. I love this hospital. I'm proud of how we care for our patients and each other and the family- feel that's tangible the moment you walk in the front door. Most of all, I'm proud of you all for your resilience, commitment and determination to deliver the best health care you can to our patients day in, day out."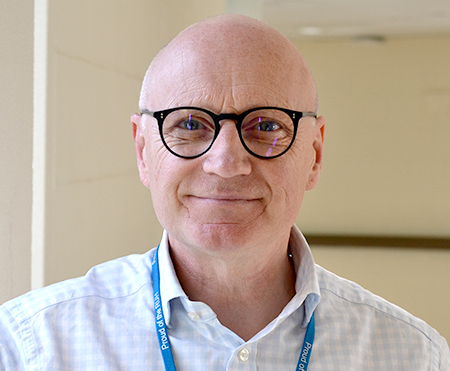 Mr Scott, who will leave his post on 31 March 2020, oversaw the RUH's most recent journey of financial and quality improvement, including achievement of Foundation Trust status in 2014, securing the future of services of the Royal National Hospital for Rheumatic Diseases in 2015, working in partnership to create Wiltshire Health and Care community services and most recently introducing an organisational development programme to support all staff to contribute to continuous improvement.
He said: "I've been involved in so many positive changes in the RUH in the 12 years I have been here and I feel certain there is an exciting future ahead. Saying goodbye is a difficult thing for me to do but I will be passing on the helm with the absolute confidence that the RUH is heading forward to the future on the right course."
Trust Chair Alison Ryan said: "James has been a dedicated and passionate CEO for 12 years and his departure will mark the end of era for all of us at the Trust. It has been an absolute pleasure to work with him and every single person at the RUH wishes him all the very best for the future."
ENDS
Notes to Editor
The Royal United Hospitals Bath NHS Foundation Trust provides acute treatment and care for a catchment population of around 500,000 people in Bath, and the surrounding towns and villages in North East Somerset and Western Wiltshire. The hospital provides healthcare to the population served by four Clinical Commissioning Groups: Bath & North East Somerset CCG, Wiltshire CCG, Somerset CCG and South Gloucestershire CCG.
The Trust has 759 beds and a comprehensive range of acute services including medicine and surgery, services for women and children, accident and emergency services, and diagnostic and clinical support services.
In 2015 The Royal United Hospitals NHS Foundation Trust acquired the Royal National Hospital for Rheumatic Diseases (RNHRD) NHS Foundation Trust. The RNHRD treats patients from across the country offering services in rheumatology, chronic pain, chronic fatigue syndrome/ME, cancer related fatigue and fatigue linked to other long term conditions such as multiple sclerosis.
The RUH is changing - we have an exciting programme of redevelopment underway transforming our site and further improving the services we provide. The Trust has opened the purpose-built RNHRD and Brownsword Therapies Centre and is now working towards the new Dyson Cancer Centre. For more details visit: www.ruh.nhs.uk/fit4future