Media Release
Date: 13 April 2017
A fun-filled Easter for patients on the RUH Children's Ward
Patients on the Children's Ward at Bath's Royal United Hospital (RUH) have been treated to a programme of events and activities in the lead up to the Easter weekend.
Children on the ward have been kept busy with art and craft workshops, entertained by an eco-storyteller and a comic duo from outer space, and presented with chocolate eggs donated to the hospital by local businesses.
On Monday 10 April, local recruitment firm Simple Recruitment South West visited the ward to deliver a mountain of over 200 Easter eggs kindly donated by their clients. Then the children enjoyed a storytelling session with eco-storyteller Treesa Green from local print firm CFH Docmail.
On Tuesday 11 April, RUH Artist in Residence Edwina Bridgeman ran an Artsparks workshop with the young patients, making shiny decorated Easter eggs which are now proudly on display in the Children's Ward playroom.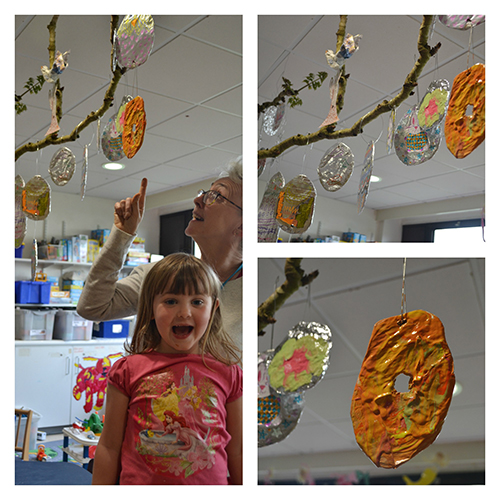 On Wednesday 12 April, the ward received two very special visitors from outer space (well, technically, they came from children's charity Starlight Children's Foundation). Captains Starlight entertained the children with magic tricks, silly jokes and ukulele.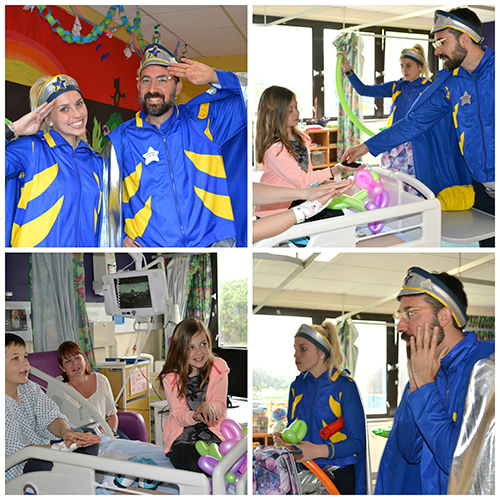 On Thursday 13 April, the Children's Ward took delivery of a second Easter egg mountain – this time donated by customers and staff at Sainsbury's Odd Down – and the art and crafts continued. The children made Easter-themed FIMO creations in a workshop led by freelance artist Charlotte Stowell (and funded by POD Children's Charity).
Children's Ward Senior Sister, Melanie Gittins said: "It's so important for our young patients to take part in fun activities whilst they are with us. Being in hospital can be a nerve-wracking experience for any child and staying in hospital over the holidays can be especially tough. We do all we can to provide fun and engaging activities to help distract children from their illnesses and injuries and make their stay that bit brighter.
"It's also wonderful to be able to treat the children to Easter eggs whilst they are here and we thank our local businesses, and their clients and customers, for the generosity they have shown."
ENDS
Note to editors:
Artsparks
http://artatruh.org/artsparks/
Artsparks is a regular series of creative workshops for young patients on the Children's Ward. The workshops take place both in the playroom and by patient bedsides. The programme is part of the offering of the RUH's arts charity Art at the Heart, and the workshops are led by the RUH's Artist in Residence, Edwina Bridgeman.
Starlight Children's Foundation
https://www.starlight.org.uk/
Starlight Children's Foundation is a national children's charity dedicated to brightening the lives of children and teenagers suffering from a serious or terminal illness.
POD Children's Charity
http://www.podchildrenscharity.com/
POD Children's Charity is a nationwide charity which organizes entertainment for children in hospital. POD Children's Charity helps to alleviate the trauma of a hospital stay by sowing the seeds of fun, laughter and feeling better.