Media Release
Date: 2 June 2016
Corsham boy's £905 for RUH children's ward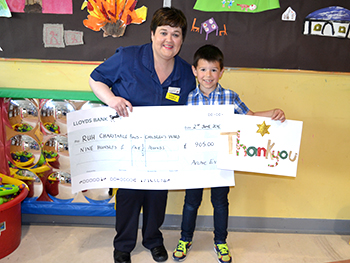 Corsham primary schoolboy Archie Enstone has his sights set on becoming a doctor when he grows up – thanks to the care he received at Bath's Royal United Hospital.
Seven-year-old Archie, who suffered a serious bacterial infection before Christmas, returned to the Children's Centre (on Thursday June 2) to hand over a cheque for just over £900.
After his recovery he spent four months planning fund-raising to repay staff who helped make him better. He organised a charity sports day at Corsham Rugby Club, attended by 32 of his friends, and raised the grand total of £905.
The sports day involved cricket, baseball, hurdles, javelin and athletics as well as selling cakes and drinks for the hospital.
Archie said: "I organised it mostly all by myself. I'm really happy we raised so much for the hospital. When I'm older I would love to be a doctor so I can help others, just like the doctors who helped me."
Ward sister Mary McDonagh said: "This is a fantastic effort by Archie and his friends and we're really grateful. We're so glad he's made a full recovery and has done so much to raise this money."
It was agreed with Archie that the money would go towards the £6000 cost of a new sophisticated monitor for the children's ward.
ENDS