Your Hospital Stay
Going Home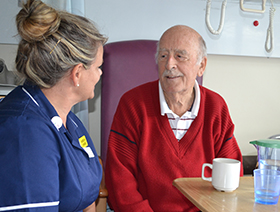 We start planning for your discharge as soon as you come into hospital and so should you.
The key is to get you back to your own environment as quickly as it is safe to do so. This is better for you and will aid your recovery.
Sometimes, hospital is absolutely the best place for you to be to have your medical or surgical needs met. But when you no longer need hospital care, a hospital bed may not be the best place for you to be.
Help us help you leave Hospital
We encourage you to be a partner in your healthcare and one way you can get more involved is to ask four key questions when you are in hospital:
What is wrong with me?
When will I leave hospital?
What is going to happen to me today?
What do I need to do to leave hospital?
These questions are a starting point for you and your family to think about your care. If you find yourself staying in hospital, we are encouraging you to ask those four key questions to help start a conversation about your ongoing health needs and the support that may be necessary to help you, your friends or relatives to leave hospital sooner.
Transport home from Hospital
Studies have shown that getting home during daylight hours make a real difference to how you settle in and from this we aim to get you home by 10am. If you are due to be leaving hospital we ask that you make arrangements to leave for home by 10am. This also means we can use your bed for the next person with clinical needs.
When thinking about going home please consider what transport arrangements you need to make. Transport from the hospital can only be arranged in exceptional circumstances where there is a clinical need. Wherever possible you are required to make your own arrangements by 10am on the day of discharge.
Home First
Home First means a safe and timely discharge with support and assessment at home. You can read more about Home First on this leaflet.
We are working together to minimise your hospital stay and maximise your independence.
Be prepared to go home at short notice
You will be given the necessary medication, equipment and any advice leaflets that are appropriate to take away with you
Once you have left hospital if you have any questions or concerns please contact your GP
Home Hub
On the day of your discharge from hospital, you may be transferred to the Home Hub whilst you wait for medication or collection by relatives or friends, or patient transport (for those with a medical need).
Located in B9, on the ground floor and open from 8am to 8pm, Monday to Friday, the Home Hub is a dedicated area for patients who are well enough to leave hospital but are waiting for collection or for medicines to take home. It provides a safe and comfortable environment staffed by qualified nurses and healthcare assistants.
Staff in the Home Hub work with ward staff, pharmacy and ambulance transport providers if required, to ensure your safe discharge from hospital.
Facilities in the Hub include:
Comfortable chairs
Hot and cold drinks
Sandwiches and cold food
Television
Toilets
On the day of your discharge, you'll be collected with your belongings and brought to the Hub; this is likely to be in the morning (8am onwards). Where relevant, ward staff will advise your carers/ relatives that you can be collected from the Home Hub, rather than the ward.
A nurse will help in organising any medication you have been prescribed to take home, and provide information and advice before you leave. Please be aware, it can take up to four hours for your medicine to be dispensed and delivered to the Hub.
Contact the Home Hub
01225 821829
Find out more
Further information