| | |
| --- | --- |
| Physiotherapy & Orthotics Service | A3 |
Hydrotherapy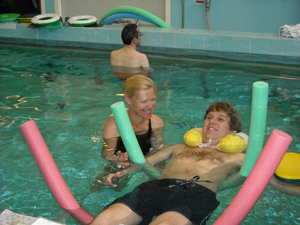 Hydrotherapy is available in a warm water pool with hoist facilities by referral from a GP consultant, physiotherapist or nurse specialist.
Indications for hydrotherapy are: severe pain, partial or non-weight bearing, multi trauma, severe movement restrictions and severe muscle weakness.
We accept a wide variety of patients including patients with orthopaedic, musculoskeletal and neurological conditions.
Details of the Pool
Depth: 4 ft – 5 ft
Temperature: 34 – 36 ° Celsius
The service is limited to Tuesdays, Wednesdays and Thursdays 9 – 12 am
Sessions are 1:2 and lasts for half an hour and a will be a therapist in the pool with you. A maximum of 6 sessions provided.
There are certain medical conditions that are unsuitable for Hydrotherapy.
At present there is a waiting list unless the condition is urgent.
Private Sessions
Outside these sessions we run a number of paid classes and one to one sessions. Please note - there is a waiting list for these sessions.
Rehabilitation
A session for you to do your own exercises with a therapist on the poolside for supervision: £35 for 10 sessions
Aquatone
Gentle exercise class taught by a therapist on poolside: £40 for 10 sessions
Private 1:1 sessions
These session are available with a senior hydro therapist: £50 per ½ hour
Pool Hire
The pool can be rented out to external groups at &15 per hour and there are a few spaces available at present
Contact Us
For further queries or bookings please contact RUH Physiotherapy Reception on 01225 824293 and leave a message and a member of the hydrotherapy team will get back to you.