Maternity
Birth Reflections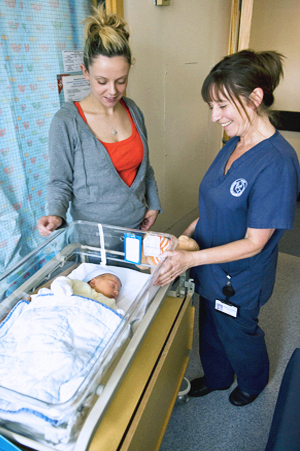 The Birth Reflections Service has been running for over 5 years and has 2 main aims; to help women explore their birth experience, giving them the opportunity to gain answers to questions, and to help Maternity Services to identify areas where we can improve our care provision.
Our names are Gemma Day and Meg Cooper and we are proud to be part of this service. We have been running the service as a team since June 2012 as well as both working clinically as midwives. Meg is based at Chippenham Birth Centre and Gemma at the Royal United Hospital in Bath.
Prior to setting up Birth reflections maternity services received regular feedback from women who had delivered with us and were looking for a greater understanding of the birth and events related to it. The best way of addressing this appeared to us to be a Midwife led service that explored and explained the birth events in a friendly environment that would help women to express how the experience had met their expectations, and enable us to talk through unanswered questions with them. And so, Birth Reflections was born.
About the service
The service was started in January 2009, by Hannah Bailey, following an in-depth assessment of how we could ensure the best possible value-add from the service. It has grown rapidly since, and we now see over 120 women a year in clinics based at the RUH in Bath and Chippenham Birthing Centre. The feedback from the women we see, as well as their families, is that they have found the service invaluable. Typical comments include:
"The reflections service was extremely helpful."
"I would recommended it to others"
"It helped me gain closure and confidence"
We found that women could benefit from the service for quite some time after delivery, so one of the most important aspects of Birth reflections is that there is no time limit imposed. Women have clearly valued the opportunity to come back when they feel ready. We see women who have had a wide variety of experiences and some many years after their birth, 19 years is the record so far!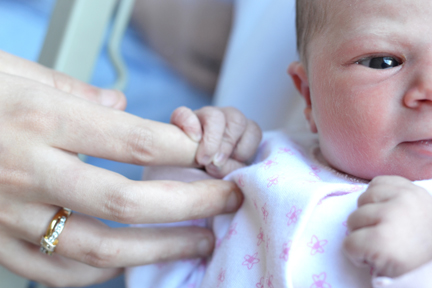 Continuing support
We know that the birth experience can be very emotive and can stay with women for the rest of their lives. Our experience shows that clarification of issues can help dissolve fears and build confidence in planning for future pregnancies.
We have also gained great benefit from working through the events with women, and have been able to use their feedback, both positive and negative, to help us in working toward providing the best service possible. The feedback from women and their families is fed back quarterly in a newsletter to all staff working within maternity services and has helped facilitate many changes here in Bath.
The biggest change has been allowing partners to stay on the ward overnight. The impact has been significant to the experience of women having to stay in hospital in early labour and immediately following the birth of their baby.
Improving our service
From a personal perspective we have found Birth Reflections extremely rewarding and has made a powerful contribution to the skills we have and how we approach our role as midwives. It's also a really enjoyable experience to work through these experiences with women and gain a better understanding of the factors that can positively influence a woman's experience even if we can not change the clinical events.
It's very clear that Birth Reflections helps many women move forward in a way that contributes to how they enjoy and get the most out of life with their family.
Find out more
If you would like any further information you can contact us on:
01225 824662