Chaplaincy
In this section: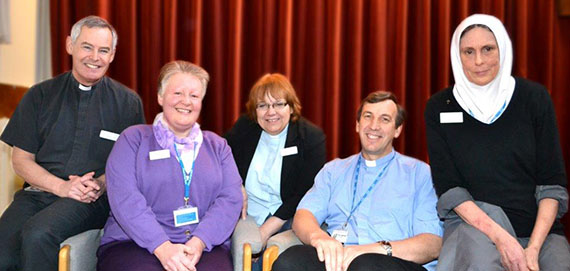 About the Chaplaincy
The Chaplaincy Team aims to provide pastoral support and spiritual care to patients, their carers and hospital staff. We seek to engage with people of all faiths or none, respecting their uniqueness, integrity and confidentiality.
We can offer guidance to and make appropriate contacts for people of all faiths on request.
The team comprises five chaplains and a number of lay volunteers, who are trained in listening skills and who visit the wards on a daily basis. A chaplain is always available, to visit and to listen: please ask a member of the ward staff.
The hospital chapel is located on the 1st floor of Zone C, Department C26 (above the Lansdown Restaurant).
The Team
Reverend Narinder Tegally

Reverend Narinder Tegally, Lead Chaplain (Church of England)

Narinder joined the Trust as our new Lead Chaplain in May 2017. Previously she was a Parish Priest in Buckinghamshire, but is no stranger to hospital chaplaincy – she was Chaplain at the Royal Free Hospital and Senior Chaplain for Guy's and St Thomas' Hospital and the Évelina Children's Hospital in London.

Before she was ordained in 2002, Narinder was a Registered Nurse working in both Palliative Care and Mental Health for young people. She is also a qualified Psychodynamic Counsellor.

Reverend Margaret Joyce

Reverend Margaret Joyce (Church of England)

Margaret is the longest serving member of the team working part time as chaplain at the RUH and at St Martin's Hospital. She is also Associate Priest at St Philip and St James church in Odd Down where she deals with pastoral and community work in the church.

Reverend Philip Simpkins

Reverend Philip Simpkins (Methodist - Free Church)

Philip is a part time chaplain who joined the staff in 2012. Alongside other members of the team he regularly visits patients on the ward to offer pastoral and spiritual support. Philip is also a Methodist Minister in the North East & Somerset Methodist Circuit with responsibility for its Church in Keynsham.

Mother Sarah Overton

Mother Sarah Overton (Orthodox Christian)

Sister Sarah joined the chaplaincy team in 2012 working one day a week having served as a chaplaincy volunteer visitor for several years.

Sister Sarah serves the local Orthodox Parish and she represents the Orthodox Church at the University of Bath.

Mandy Baker

Mandy Baker (Roman Catholic)

Mandy is a lay Roman Catholic chaplain who joined the staff part-time as chaplain in 2012 with special responsibility for the care of Roman Catholics in the hospital. Mandy liaises with local RC clergy and a team of Lay Eucharistic Ministers to ensure pastoral and spiritual care is offered to Roman Catholic Patients.

Apart from her duties in the hospital, she works as a lay chaplain in a Catholic secondary school.
Chapel Services Sunday 8.00pm Songs of Praise
This service is led by chaplaincy team volunteers from local churches. Please let a member of the ward staff know if you would like to be collected in a wheelchair and brought to the service.
Thursday
1.00pm Holy Communion
(Church of England)
Holy Communion (reserved sacrament) is available at all times and can be brought to the bedside.
Prayer Room
1.30pm Friday Prayers
Said informally by Muslim healthcare staff.
Contact Us
On telephone 01225 824039 if you are calling from outside the RUH or using a mobile phone.
Alternatively dial 4039 from any phone located in the hospital or email the Chaplain on

In an emergency
Please contact us via the main hospital switchboard 01225 428331 asking for the On-Call Chaplain. If you are calling from a RUH phone, dialing 0 and asking for the On-Call Chaplain.