Learning and Development
eLearning and ESR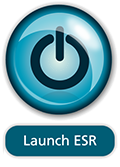 Access your online training, payslip and much more from home or outside the Trust via the
ESR (Electronic Staff Record).
How to set up Remote Access
Download the eLearning Guidance Leaflet . This will help you find and enrol onto eLearning from work or home.
Please note: you need to set up your remote access username and password at the Trust.
If you have forgotten your password you can reset it from the Trust in the Remote Access area of ESR.
eLearning Support
You may need to download software to ensure your eLearning results record on ESR. To check your PC or Mac is set up for home access:
Need help? Contact Lisa Harvey via:
How to find the mandatory modules
Locally-developed mandatory and essential programmes start with 427 RUH.
These can be found by entering RUH into the search box in ESR.
You can narrow down this search to a subject by using a % e.g. RUH%Fire
Where else you can access eLearning
There are other websites with freely available eLearning that you might like to explore.
Find out more