RUH Redevelopment Plan
Building a new RNHRD and Therapies Centre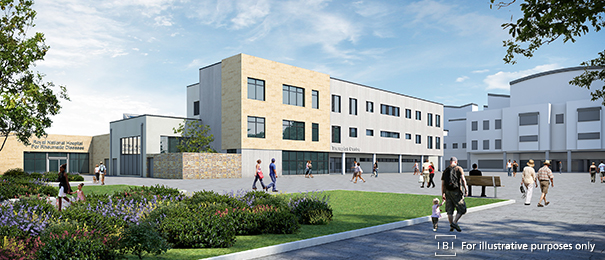 Our new RNHRD and Therapies Centre will be built close to the main entrance of the RUH, it will be an outpatient centre providing treatment, care and education for patients to recover from episodes of illness or injury, or to manage their long-term condition.
We will be the 'bridge' connecting and signposting patients to resources and support in the community to enable patients to manage their daily lives.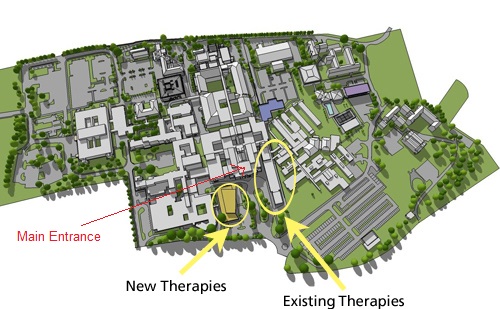 What services will be provided at the RNHRD and Therapies Centre?
The new building will house many of the services currently located at the Mineral Hospital and in RUH North, namely rheumatology, therapies and pain management services under one roof. The Centre will create a centralised and integrated space for staff to work collaboratively, delivering a holistic and patient-centred approach to care. Services which will be provided from this building include:
Rheumatology Outpatients
Hydrotherapy
Physiotherapy
Occupational Therapy
Ankylosing Spondylitis
Biologics day case unit
Pain Clinic
Stroke Unit
Cancer Survivorship
Trauma & Orthopaedics
Cardiac Rehabilitation
Fatigue Management
Musculoskeletal Physiotherapy Service
Dietetics
Orthotics
Speech & Language Therapy
Pulmonary Rehabilitation
Hands Service
Fibromyalgia Coping skills
Dementia outreach
Staff support service
Services for Ex-military personnel
Podiatry
Hypermobility Service
Women's health physiotherapy
Chronic Regional Pain Service
Breast Radiotherapy Injury Rehabilitation Service
What facilities will be provided at the RNHRD and Therapies Centre?
The new Centre will include:
Clinic and treatment rooms
Gymnasium
Education rooms for forums and classes
Hydrotherapy pool
Assessment and teaching kitchen
Assessment bedroom and bathroom
Skype clinic room
Intervention room for guided injections and ultrasound
Discreet stair assessment
Gait analysis
Get involved
For the last 18 months we have been working with service leads and clinicians to design a purpose built centre. We are now in the process of organising dates to meet with patients and the public to capture experiences, knowledge and ideas which will further inform the design.
If you would like further Information or like to be involved in the patient and public focus groups please contact the Commercial Project team via Gemma.Pugh@nhs.net .
Relocating services out of the Mineral Water Hospital - public and patient engagement on service moves
While planning and building work takes place, services will continue to be provided at the Mineral Water Hospital and will not move until 2018. You can find out more about why services will move from the 'Min' site here and share your views on the plan to relocate rheumatology and rheumatology therapies services.
Find out more
Follow our Twitter account to keep up to date with all the latest Estates redevelopment news.