Parkinson's Disease
PD and Surgical Admissions
The majority of patients with early PD can do well in hospital if they are given their medication and can swallow it - make sure they get it!

Zero tolerance for pharmacy code 4 in Parkinson's patients!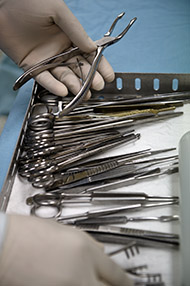 But Parkinson's Disease patients are vulnerable in hospital, especially for surgery.
Medication gets missed
Mobility and stiffness gets worse in bed or without normal medicines
Swallowing declines; aspiration and pneumonia are common
Nutrition at risk from poor hand dexterity and swallow
Communication takes time – and worsens without medicines
Delirium is common
Medication around surgery:
A PD patient will stiffen up without medication every few hours.
For well controlled, early PD patients:
Prescribe their normal PD medication at their usual home timings (consider self-medication)
Ensure medication is actually given – and on time
Do not omit prior to surgery
Restart as soon as possible afterwards
Mobilise early
For complex patients, you need to contact the PD team urgently.
Click here for advice if patient is unable to take medicine orally.
Don't just omit medication:
When PD medications are withdrawn abruptly patients are at risk of developing
Neuroleptic Malignant Like Syndrome.
Special case: PD patients who have a Deep Brain Stimulator – DIATHERMY and MRI CAUTION