Outpatients
Video Consultations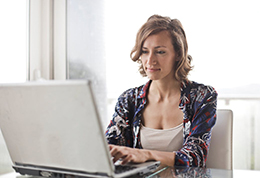 Patients may be offered the option of having their outpatient appointment via video call.
For many people, video consultations are a convenient option which saves time and money, meaning you don't need to travel to the hospital site for your appointment.
Through surveys, many patients have told us they like video consultations:
Almost all patients that have had a video consultation would have one again. The majority felt that the consultation was the same or better than a face-to-face consultation in the hospital.
Half of patients expressed a preference for a mixture of consultation formats depending on purpose/needs.
Patients found video consultations more convenient than attending the hospital. Patients:

Did not have to allow significant extra time before and after appointments
Only needed to take minimal time off work / school / daily activities
Had a more comfortable and shorter waiting experience
Had a less stressful experience
Felt it to be safer/easier where their condition reduced their ability to travel
If you have been offered a video consultation and you have a query about it, please contact the team your appointment is booked with. If you have a technical query about DrDoctor, please contact
support@drdoctor.co.uk
.