Shops & Facilities
Hospedia

Hospedia is dedicated to making people's stay in hospital easier by providing some of the entertainment and communication choices they enjoy at home.
Further details about Hospedia services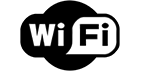 Patient WiFi
WiFi is available to Patients and Visitors in the hospital. The service is provided by Hospedia and is branded as The Cloud.
The service is free for the first 15 minutes. Thereafter, additional service bundles are available and may be purchased using a debit card.