Maternity
4D Scan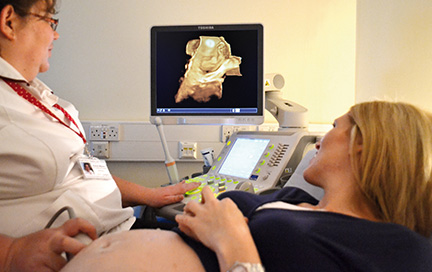 The RUH is now able to provide 4D baby scan pictures!
4D baby scanning allows us to create fantastic pictures of your unborn baby.  You may see baby moving, yawning, smiling or even thumb sucking.
The service is provided by qualified and experienced RUH sonographers here in the Princess Anne Wing.
What is 4D?
A 4D scan uses ultrasound, just like the 12 and 20 week scan, but combines sections of 2D images to create a 3D image which you can see moving in real time – adding the fourth dimension.
When can I book a scan?
We advise you to have your NHS screening scans before booking a 3D/4D scan as 4D scans are non-diagnostic and are not suitable for foetal anatomy assessment.
Our 4D scanning service can be performed on pregnant women who are between 24 – 34 weeks gestation however, we advise that the best time to have a 4D scan is 26 – 30 week gestation for a singleton pregnancy. This time frame is reduced to between 24 – 28 weeks gestation for a multiple pregnancy, e.g. twins.
Appointments are available Tuesday to Thursday evenings from 4-8pm and Saturdays 9-5pm (subject to availability).  
To book or for more information please call 01225 825414 between the hours of 9am – 12noon Monday - Friday.
How do I pay?
A non-refundable deposit of £100 will be taken over the phone at the time of booking. This cost covers our basic package. If you are having the platinum package, the remaining £50 will be taken by card payment only after your scan.
Package
Number of printed
photographs
Images on DVD
Total Cost
Gold
3
10
£100
Platinum
5
10 images plus
4D moving image
£150
What should I expect from the appointment?
All scans are performed by our highly qualified and experienced obstetric sonographer within the Princess Anne Wing of the Royal United Hospital Bath.
Partners/friends and children are welcome to attend with a maximum of 4 in the room including mum. On attendance, your sonographer will greet you and show you into the scan room. Then they will tell you what needs to happen to get images of your baby's face and what may need to happen if baby is in an unfavourable position.
During the appointment you may see baby moving, yawning, smiling or even thumb sucking.
The clarity of your scan and pictures will depend on the position of your baby, the placenta and the amount of fluid around your baby. If the sound has to pass through an increased amount of maternal body tissue (skin, fat and muscle) the pictures may not be as clear.
The scan takes approximately 20-30 minutes. Afterwards the Sonographer will show you back into the waiting area while they prepare your package. They will then return with your package and take any outstanding balance if required.
What happens if we can't get images of my baby's face?
Sometimes, if the baby is led in the wrong position (e.g., looking down, towards mums spine, or has arms/legs in front of baby's face) then unfortunately we will not be unable to obtain images of your baby's face. Babies usually move on their own during the scan however if your baby does not choose to oblige then the Sonographer will do their best to encourage your baby to move. They may ask you to change positions, change the angle of the bed, or occasionally, send you to go for a brisk walk and/or have something sugary to eat.
Sadly, sometimes it isn't always possible to see baby's face during the appointment time. If this is the case on your first appointment, the Sonographer can offer you a second chance to see baby's face on a different day. If at the second appointment the baby is still hiding his/her face then no further scan will be offered.
Multiple pregnancies
It can be difficult to obtain facial views for all babies in a multiple pregnancy. This is due to the high chance of one being led in the wrong position or, a face being obscured from view by one of the other baby. It is for this reason that Bath Baby restricts the scan time frame for multiple pregnancies (24-28 weeks, while there is still room for the babies to move around easily).
As with a singleton pregnancy, if this case was to present, the Sonographer would do everything they can to try to encourage baby to move. As with singleton pregnancies, if babies still don't change their positions then, if this is the first appointment, the Sonographer can offer you a second chance to see the babies faces on a different day. If at the second appointment the Sonographer is still unable to achieve this, then no further scan will be offered.
Multiple pregnancies are allotted the same appointment time as a singleton pregnancy and therefore the same fees apply.
Can you tell me my baby's sex?
This is only possible if the baby is in a position where the sex can be easily identified. We cannot guarantee an accurate identification of your baby's gender (5% chance of error). If you do not wish to know, please say before the scan and we will try to avoid accidentally showing you.
Are we looking for abnormalities?
No. The only scan used to look for abnormalities is the conventional ultrasound scan which is performed at around 20 weeks. This is still the best method for detecting problems.
If, however, we suspect that there might be a problem, this will be explained in as much detail as possible. With your consent we will contact your midwife or consultant team responsible for your care.
Please note this will be done the next working day as we're unable to contact people out of hours.
How can I view my images?
The CDs we provide to you part of the package are written within the ultrasound machine. Still images will be saved by the Sonographer and if purchased the 4D clips will be captured during the scan. The images are checked by the sonographer before they are given to you.
Pictures are supplied in jpeg format. The movies supplies are in a Windows Media Video format (wmv). These can be viewed on most computers running Microsoft Windows but unfortunately not Apple products.