| | |
| --- | --- |
| Cancer Information & Support | A12 |
The service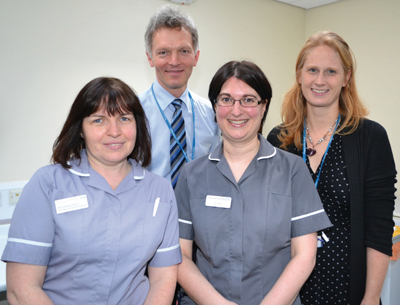 To be told you have cancer can be a frightening even shocking experience. To be told a relative or friend has cancer can be equally distressing. You may want and need a lot of information, practical advice and support to help you through this experience.

Your needs will change at different stages, from diagnosis, through treatment and after treatment has finished.

The Cancer Information and Support Centre can give you the information and support you need to help you cope, at all these different stages.
The Cancer Information and Support Centre opened in July 2005 and is a partnership between Macmillan Cancer Support and the Royal United Hospital NHS Trust. The Bath Cancer User Support Group has also supported this project.
The aim of the Centre is to offer information, practical advice and support to people with cancer, families and friends and also to provide healthcare professionals with an additional resource.
We offer
A friendly drop-in service
A selection of leaflets, books and videos on many aspects of cancer
Access to financial information, support and advice
Access to free cancer counselling at the centre
Guided access to the internet
Details of local and national support services and organisations
Signposting to other services
Links to the RUH Cancer Services User Involvement Group (involving people affected by cancer to improve cancer services at the hospital)
Whether cancer is affecting you or someone close to you, it can help to talk about your feelings and your worries. The Cancer Information Specialist and a team of trained volunteers can listen and put you in touch with services that may be of help when coping with all the uncertainties that a cancer diagnosis can bring. We can put you in touch with counselling services both at the RUH and i the community, and self-help or support groups in your area.
Patient Information Leaflets
Patient Information Leaflet Oesophagus Stomach Cancer
The Team
The Cancer Information Specialist works with all the cancer teams in the Royal United Hospital and is a member of their extended MDT meetings.
Contact
Tracey Langton
Cancer Information Nurse Specialist
Telephone No: 01225 824049 and ask for bleep 7423
Email: ruh-tr.cancersupport@nhs.net
Centre Opening Times
Monday to Friday (excl. Bank Holidays)
10:00am – 4:00pm

If you are making a special journey to the hospital to visit the centre it is advised to telephone to check we are open.
Useful Links
CancerHelp UK
Information covers specific cancers, prevention,treatment and checks, living with cancer and healthy eating.
Macmillan Cancer Support
Provides information about cancer and services for people affected by cancer and healthcare professionals.
Wessex Cancer Trust
Provides information for cancer patients, their families and the professionals caring for them.
Cancer Research UK
Information on learning about cancer and/or take part in its cure.
Hospice Information
Provides information for people affected by cancer and professionals about Hospice care.
Database Of Individual Patient Experiences (DIPEx)
Information on personal experiences of coping with illness.
Breast Cancer Care
Information and support for people affected by breast cancer.
Lymphoma Association
Information for people with lymphatic cancer, their families, carers and friends.
Prostate Cancer Charity
Information about prostate cancer and raises awareness of the condition.
Cancer Equality
Improving access to cancer information and support to black and minority ethnic communities.
Bowel Cancer UK
Information and support for people affected by bowel cancer.
Roy Castle Lung Cancer Foundation
Practical and emotional support for patients and all those affected by lung cancer and smoking.
Rarer Cancers Forum
Advice, support, information and networking for people affected by rare and less common cancers or their families and friends.
Avon, Somerset and Wiltshire Cancer Services
The cancer network for Bristol, South Gloucestershire, Somerset and Wiltshire, working to improve the quality of cancer services provided throughout the region with user involvement at every level.