News & Media
Recycle Zone to launch at the Royal United Hospital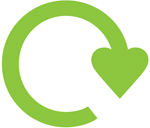 Over 50 recycling units are now available for patients, visitors, and staff at the Royal United Hospital, Bath to recycle their waste as part of a project co-ordinated and part funded by Bath & North East Somerset Council.
The Recycle Zone at the RUH, Bath is the first project of its kind in a hospital in the south west. The initiative, funded by the Waste and Resources Action Programme (WRAP) and Coca-Cola Enterprises seeks to improve recycling in public places so that people can recycle when they are away from home.
Councillor Charles Gerrish (Conservative, Keynsham North), Cabinet Member for Customer Services, explained "This has been a great example of partnership working and I am delighted that our residents can now recycle their magazines, newspapers, cans and plastic bottles when they visit the hospital, instead of throwing them away. Encouraging people to recycle even more is part of Bath & North East Somerset Council's efforts to tackle the causes and effects of climate change. The new Recycle Zone will provide one more place to recycle as much as possible."
Staff at the hospital already recycle much of the waste created but a lot of this happens 'behind the scenes'. For visitors and patients, this will be the first time they can recycle some of the things they usually recycle at home.
The units are being placed at various public locations across the hospital such as the Atrium Reception, restaurants, education centre, some wards, theatres and the bus stop. The official launch is due to take place on Tuesday 11 May 2010 at 11am in the Atrium Reception.
The Council waste team will also be on-hand on the launch day from 10am - 2pm in the Atrium offering advice and information about recycling and the new scheme.
Luke Champion, Environment Manager at the hospital said, "As a hospital, we are committed to reducing our waste. We were delighted when the Council approached us and asked if we would like to be involved in this project. We could see the tremendous potential for our visitors, patients and staff to recycle more. We are confident that the new recycling units will be well used and help raise the profile of recycling throughout the hospital."
For more information on recycling, including a short video of the top five recycling tips go to:
www.bathnes.gov.uk/wasteservices