Car Parking & Charges
Paying for Parking at the RUH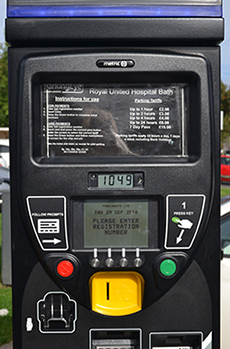 We have a new public parking system on site. Here's a guide to what you need to know and how to use the new cash machines.
When you arrive
Make a note of your arrival time and simply go about your hospital business
You don't need to display a ticket in your vehicle
You don't need to pay on arrival – you can pay when you leave
You can choose to pay on arrival if you know how long you're going to be
You can always pay for more parking time during your stay if it lasts longer than expected
You can even pay after you've left the hospital, by paybyphone – more details here: paybyphone.co.uk
Please telephone :
0330 400 7275

You can Pay-By-Phone up to midnight of the day you have parked.
When you come to leave and pay
Make sure you have enough money in coins, or have a bank card on you
Remember your arrival time and vehicle registration details
Enter those details in the cash machine using the keyboard
Pay by coin, card or phone for the time you know you have been parked
There are pay machines across the site, including at the entrance to Princess Anne Wing, in the main entrance (Atrium) and at A&E. More will be installed soon.