Car Parking & Charges
About our Car Parks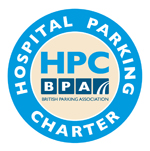 After being named as the best hospital car park in England by consumer champion Which?, the RUH has now signed up to the British Parking Association (BPA) Charter for Hospital Parking.
The Charter, backed by the NHS Confederation, is designed to help and encourage NHS Trusts to provide parking management systems that are fair for all. The issue of parking management at hospitals is a hot topic, regularly debated, and in response to this the BPA has produced guidelines to help Trusts and car park operators deliver effective and efficient parking for users – many of whom have particular needs.
In June 2010, Which? used Freedom of Information requests, together with expert researchers and statisticians, to compile a hospital car parking 'league table' which rated all the hospital car parks in England. The large number of priority spaces, comprehensive variety of payment methods and excellent patient communication helped the RUH claim the top-spot.
Adam Jones, Security and Car Parking Manager, said: "We're delighted that the RUH has been voted as the best NHS hospital car park in England. Car parking issues are a problem for most hospitals and we are aware that this is a big issue for our patients. Although we may not be perfect, what this demonstrates is that we are clearly heading in the right direction. This is a great reward that recognises all the hard work my team does to effectively manage car parking on the hospital site."
We hope the new Charter will help us to continue to improve and shows we recognise just how important this is for our patients and visitors.
Please note that car parking is limited on the hospital site and the roads immediately adjacent.
The hospital has two entrances located on Combe Park Road - the main entrance and the emergency department entrance.
BPA Charter for Hospital Parking