Join our Emergency Department Team
Come and work with us and help build our future. As a Trust we are part of the national 'New Hospital Programme' and we're looking for bright, talented people to join us and help make our Emergency Department one of the best in the country. The team are committed to providing the highest quality of emergency care and making it an outstanding place to work, where staff can flourish.
Our Emergency Department covers a population of 500,000 people and last year we had approximately 72,000 attendances. The department consists of four areas: a minor injuries unit, major's area, a resuscitation area and an observation unit. The unit also has a procedures room and two relative rooms.
Joining our Emergency Department team
We are recruiting for a range of roles in our Emergency Department, and we are also keen to support Advanced Nursing Practitioners (ANPs), Emergency Nurse Practitioners (ENPs), Physiotherapists and Paramedics who have advanced qualifications to join the team of senior nurses and provide clinical management to the patients predominantly in minors.
If you would like to be part of our proactive Emergency Department team and have the enthusiasm and motivation to make a difference, please take a look at our current vacancies below and submit your application:
Opportunities
Enjoy a rewarding nursing career in ED
Do you want to develop your clinical skills and build a professional portfolio that will enhance your nursing career? If yes, apply for our staff nurse roles. We have full and part-time hours available.
Due to successful promotions within the Emergency Department we have the opportunity to recruit more registered nurses to join our innovative Emergency Department nursing team.
We constantly review roles and clinical scope with the Emergency Care environment, and are just about to launch 'the Emergency Department Big Room', which is a quality improvement initiative following the Sheffield FLOW methodology so that all staff can be actively involved in quality improvements.
Investing in your development
We have a strong commitment to developing our staff and are delighted to offer the following:
Daily teaching programme: learn clinical skills such as suturing, X-ray ordering
Senior nurse mentorship
Dedicated Clinical Practice Facilitator
Consultant nurse
Enhanced orientation and education programme to help you extended your clinical skills
Well-being and personal support
Opportunity to be part of the many quality improvement projects that we facilitate in-house with support from the Quality Improvement Centre
What's new in ED?
New improvements for our younger patients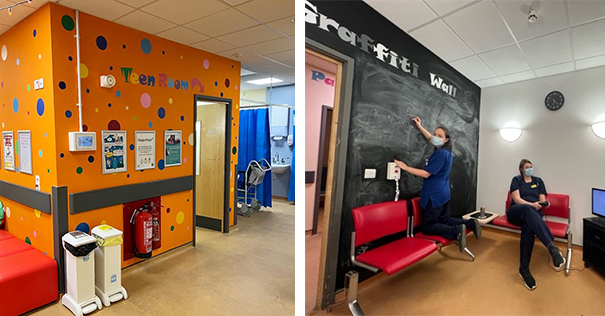 A number of exciting improvements have been made to enhance the facilities for children and young people requiring urgent and emergency care. A new Children's Emergency Department (CED) opened just before Christmas 2021, creating a dedicated and separate area for children and young people to be seen and assessed in the department.
The new-look department includes an improved treatment area as well as individual rooms for those youngsters who need urgent care. It is a bright and airy space with colourful activity walls to keep young patients occupied during their time in the Emergency Department. There is also a new Teenage Room to provide a separate quieter space for young people to wait for their care.
The area is staffed by dedicated children's nurses 24 hours a day, seven days a week, creating a welcoming environment for children and their parent/guardian.
This new area is the latest in a series of improvements that have been made to the RUH's emergency care facilities. Other recent developments have included:
A new 4-bed resuscitation area, including a dedicated children's resuscitation room, has been created to care for patients arriving by ambulance and needing resuscitation or major care. This has also improved access to ED for ambulance crews
Providing same day care for patients who would otherwise be admitted to hospital. Under this care model, patients can be rapidly assessed, diagnosed and treated without being admitted to a ward and, if clinically safe to do so, will go home the same day their care is provided
A new Covid-safe waiting area for adult patients
Introducing the new Red Resus Area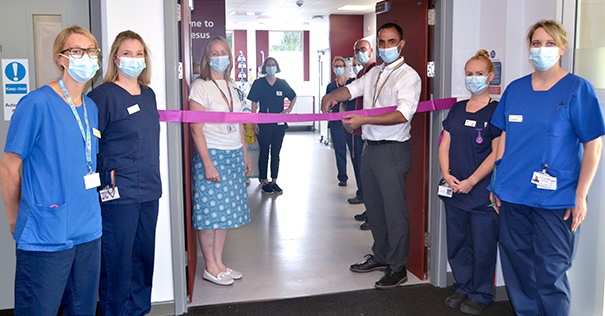 We are incredibly proud to have opened a new area in ED called 'Red Resus'. This area provides additional resilience to manage and treat infectious patients who are critically unwell, and to perform high-risk procedures on infectious patients. It also gives the department the capacity to safely and effectively manage future pandemics or surges in highly-contagious diseases without compromising patient or staff safety.
'Red Resus' is now the designated area for all resus patients in the Emergency Department and allows for the treatment of patients using aerosol-generating procedures. The area consists of four sealed negative-pressure chambers, three for adults and one for paediatrics, with state-of-the-art equipment and purpose-built donning and doffing rooms.
Interested in joining our Emergency Department team?
Contact us for more information or to arrange an informal visit: