Planning your Treatment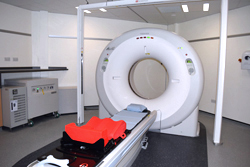 Most patients will need their radiotherapy to be planned before the treatment can begin; this may be done at the RUH or at Bristol Haematology and Oncology Centre (BHOC).
Please look at the Patient Information Booklets for site specific planning details.
Radiotherapy Patient information - Your planning appointment
This video takes you on a patient journey at the Royal United Hospital for your planning appointment for radiotherapy. You will see what the department looks like, the type of scan you will have and what will happen after your scan.