| | |
| --- | --- |
| Physiotherapy & Orthotics Service | A3 |
Exercise Classes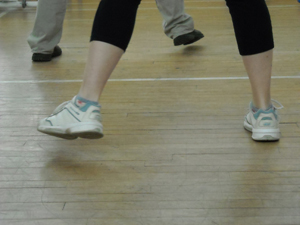 The Physiotherapists run a number of exercise classes as part of the Outpatient Care programme. They include:
Leg Class Information
What is it?
Circuit type exercise for rehabilitation of the leg.
Who attends?
Any person assessed by one of our Physiotherapists for a leg problem.
Why?
To help strengthen and improve the general function of your leg. It is also a good opportunity to meet other people with similar problems.
How many classes will I attend?
Usually 8. If you want to continue to attend,  There is a charge of £3 per class.
When?
Thursdays at 8.30 am – 9.30 am in the Physiotherapy Gym, Royal United Hospital.
What should I wear?
Loose, comfortable, clothing eg. T-shirt and shorts or tracksuits and trainers. Also bring something to drink as you will get hot! A shower is available
What if I cannot attend?
Ring Physiotherapy reception (01225 824293).
Anyone who does not attend 2 sessions without letting us know will be discharged.
When will I see my Physiotherapist again?
Please decide with your Physiotherapist if you need a review and book this in.
Back to normal class
Who should attend this class?
An exercise class for those recovering from back problems.
Why?
To encouracge return to normal activity and fitness in a safe , enjoyable and positive way. Start gently and find what level of exercise you can manage and then slowly build up.
What to expect?
Gentle warm up, stretches, circuits, mat work warm down and relaxation. People often feel stiff after exercise at first. You will probably need to do some stretching the next day.
How many sessions?
8 sessions in 8 weeks.
What then ?
The class is a stepping stone onto your own exercise/activity eg, classes in aerobics/
aquaerobics/dance or walking /cycling/ swimming (discuss with your own Physiotherapist). If you want to attend this class.
For longer, this is possible . There is a £3 charge per class after your first 8 free classes.
What about individual sessions
These will be organised as needed. You will need to book at least one appointment in advance with your physio for after the course to discuss your progress.
When?
Mondays 10.30 am – 11.30 am
Where?
RUH Physiotherapy gym; check in at the reception desk and come down to the gym.
What to wear
Loose, comfortable clothing to allow you to move (eg T-shirt and shorts or tracksuit bottom). Shower facilities are available.
If unable to attend
Let us know – Tel 01225 824293.  If you do not attend 2 sessions without contacting us you will be automatically discharged.