| | |
| --- | --- |
| Physiotherapy & Orthotics Service | A3 |
Adult Cystic Fibrosis Physiotherapy Service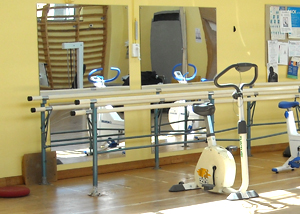 Gail Jones is the Specialist CF Physiotherapist responsible for the care of the Adult CF patients at the RUH and works Tues, Wed and Thurs 9.30-2.30.
The Adult CF team at the RUH comprises of Respiratory Nurse Specialists, Specialist Physiotherapist, Clinical Psychologist, Pharmacist, all headed up by a Consultant Respiratory Physician.
The service at the RUH is linked to the CF Specialist Centre at Bristol Royal Infirmary and the majority of the Adult CF patients are shared care between the RUH and BRI.
Patients will receive physiotherapy input in a variety of settings depending on need.
Out-patients
A dedicated CF clinic is held every 2 weeks on a Thursday afternoon where the patients have a physiotherapy assessment. Further out-patient physiotherapy sessions may be arranged as necessary.
In-patients
Daily physiotherapy input is available during in-patient stays.
Home Visits
Patients who are on home intravenous antibiotic courses have physiotherapy at home during this time. Home visits at other times are sometimes necessary e.g. during pregnancy.
The CF Trust have a very informative website that you can access on:
www.cftrust.org.uk (external Site - Link opens in a new window)